Hosted by Achim Feige and Leonie Novotny
About this Event
Along the Danube river, we will co-create, flow with, and become waves.
Can beautiful business save the world? Explore with us and co-paint the Viennese canvas of business and organizations.
The future lies within the beauty we perceive in the present. It is time to rewrite the rules of business by making it more beautiful now. Join this wave of reimagination, connection and inspiration. Let's flow forward and reinvent business, your organization and yourself.
Arrival and Meditation
Prelude by Achim Feige and Leonie Novotny
Main Session Two – Weak Signals
Gather and Reflect. Shaping a Dream.
Flow for Leaders
How to lead and master the ocean of complexity and uncertainty more successfully by accessing high flow states – with Achim Feige
Flowing Ideas on the Lunch Table
Perceiving Beauty. Two Perspectives.
Dérive. Walk and Play.
Main Session Three – Phantasize
Gather and Reflect: Writing a Postcard
Flowing through the Dinner
The Great Masquerade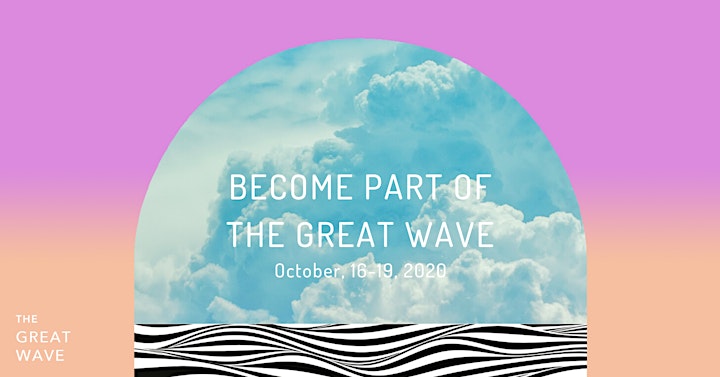 The Vienna hub is part of The Great Wave, the first-of-its-kind virtual and in-person festival that will connect thousands of people around the world from October 16-19, 2020 to explore how we can reinvent business, our organizations, and ourselves.
To reserve your spot, please get your The Great Wave pass. Once you hold a pass, you receive a password to sign up on this Eventbrite page for the hub. Due to limitations on crowd size, registration and admittance for hub events are first-come, first-served.
Virtual and in-person, global and local, indoors and outdoors, in cities and nature, alone and together, The Great Wave is an extraordinary festival for extraordinary times. View the global program here.
The Great Wave is a creation of the House of Beautiful Business, a global think tank and community to make humans more human and business more beautiful.
Any questions? Please email us at collaborate@thebusinessromanticsociety.com