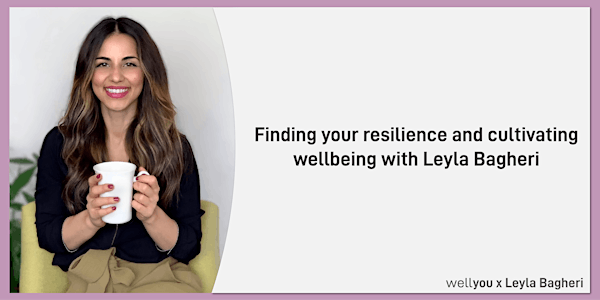 Finding your resilience and cultivating wellbeing with Leyla Bagheri
Learn some practical strategies to improve your mental wellbeing and build resilience to feel more empowered and stress-free
About this event
Would you like to find out what the biggest barriers are that we face regarding our mental health? Or maybe you'd like to learn practical strategies that you can start incorporating into your life to feel more empowered? Then, this event is for you.
Building resilience and sustaining our mental wellbeing can be understandably hard during a pandemic. But don't worry, we aim to help you gain back control.
Join Leyla Bagheri, a wellbeing and performance coach and an advisory board member of the Mental Health Support Network (MHSN), to learn more about how we can overcome barriers to better mental health.
All you need is a pen and paper for the workshop on April 1st at 1:00pm EDT!
And before you go, don't forget to follow Leyla on Instagram for more tips and insights on how to manage stress and master your wellbeing.
More about Leyla:
Leyla is also a member of the Canadian Psychological Association, has presented at numerous international psychology conferences, and has published scientific research.
Having experienced war, family conflict, addiction, going through university working two jobs, and starting a business with no money, Leyla understands that life's not always easy. But she's learned that we can be in control, have our wellbeing intact, and be resilient no matter our circumstances.
More about wellyou:
wellyou is a holistic program and real-life adventure game designed to increase peoples' happiness & well-being - physically, mentally, socially - with science-based methods in an iOS app. Our mission is to help people become happier, healthier and more compassionate human beings.
You can find us as @wellyou.app and wewellyou - happy to meet you there!