Dieses Event ist beendet.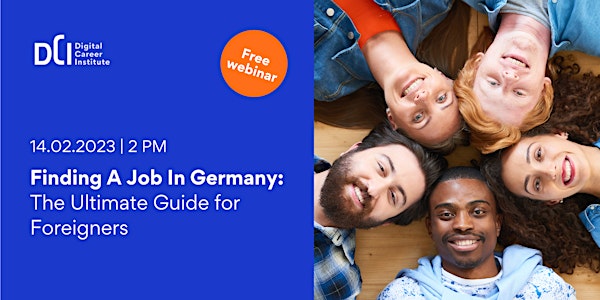 Finding A Job In Germany: The Ultimate Guide for Foreigners - 14.02.2023
Lost in the jungle of the German job market? Learn all you need to know to start working in Germany as a foreigner!
Von DCI - Digital Career Institute
Zeit und Ort
Datum und Uhrzeit
Di., 14. Feb. 2023 05:00 - 06:00 PST
Zu diesem Event
Join us to discover the challenges of entering the labor market in Germany and how to overcome them! We will give you the best tips to navigate the bureaucratic jungle on your way to getting a secure job!
💫 Contents
Learn how to overcome cultural differences.
Even Germans get lost in the bureaucracy: We show you how to send applications in Germany
Find out how to get Additional Education for free using a Bildungsgutschein.
👨‍🎓What our students say about us: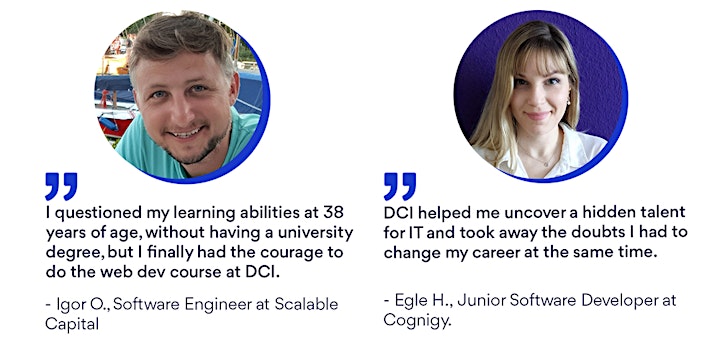 Our students come from very different backgrounds. 🌈 They have many different professional backgrounds, are young and old, and come from over 120 different nations. They are proof that anyone can make it in the tech industry.
🧑‍💻 A DCI graduate at work:
We are looking forward to meeting you!💙
Your DCI-Team
(cei:7162683)
(ci:CENT-FJG-EN-2023-02-14)
Über den Veranstalter
Our goal is to offer people from underrepresented groups or people without jobs a perspective in the digital industry. To this end, we regularly organize events and webinars to educate people about career changes or reskilling opportunities in web and backend development, online marketing, cloud computing, and human resources. The courses presented are perfect for newcomers with no previous digital knowledge, in English or German, and can be financed via an education voucher (Bildungsgutschein) from the Agentur für Arbeit or Jobcenter.
Find more information about us here: https://digitalcareerinstitute.org/