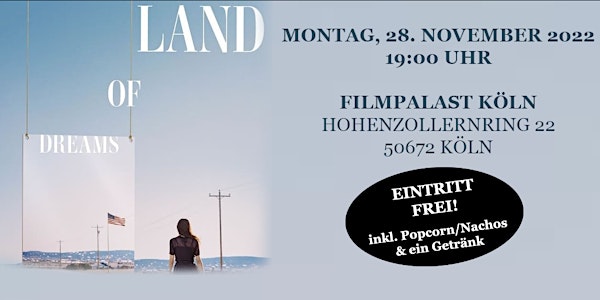 Filmscreening: Land of Dreams in OmU
EINTRITT FREI! Nachos/Popcorn & Getränk dazu!!
When and where
Location
Filmpalast Köln Hohenzollernring 22 50672 Köln Germany
About this event
In naher Zukunft haben die Vereinigten Staaten von Amerika ihre Außengrenzen abgeriegelt. Simin Hakaks Familie stammt aus Iran. Sie arbeitet für die wichtigste Regierungsbehörde ihrer Zeit, das Zensusbüro. Um die Bevölkerung zu verstehen und zu kontrollieren, hat die Regierung ein Programm gestartet, um die Träume der Bürger aufzuzeichnen. Simin ist eine der leitenden Traumfängerinnen und fährt durch den Mittleren Westen, klopft an Türen und stellt den Bewohnern immer aufdringlichere Fragen.
Eines Tages wird sie von ihrer Chefin Nancy mit einer wichtigen Aufgabe betraut. Sie soll eine iranische Kolonie ehemaliger Revolutionäre infiltrieren und Informationen über deren Träume sammeln. Obwohl sie den Job ohne Zögern annimmt, destabilisiert der Besuch Simin, die sich nun mit ihren ambivalenten Gefühlen gegenüber den USA auseinandersetzen muss. Sie wird bei der Arbeit von Alan Villin begleitet, der als ihr Leibwächter dient.
Die Menschen konfrontieren sie bei ihrer Arbeit mit teils skurrilen Träumen, und Simin kompensiert diese Erfahrungen sowie ihre Traumata als Migrantin, indem sie auf Social Media in die Rollen der Träumenden schlüpft und sie auf Farsi nachstellt. Bald ahnt Simin jedoch die perfiden Absichten des Zensusbüros