Dieses Event ist beendet.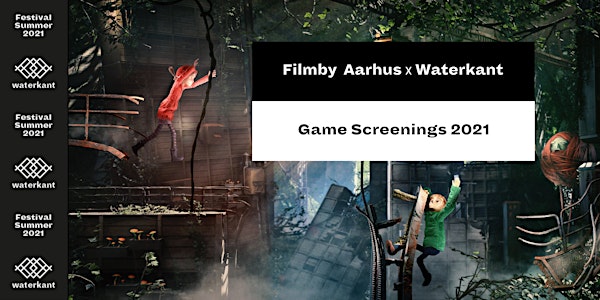 Filmby Aarhus x Waterkant Game Screenings
Playthroughs, talks, workshops and International networking. Hot chilli and cold beer !
Zeit und Ort
Veranstaltungsort
Waterkant Festival MFG-5-Gelände, Halle 51 24159 Kiel Germany
Karte und Wegbeschreibung
Rückerstattungsrichtlinie
Zu diesem Event
We've partnered up with the amazing Filmby Ideas Lab in Aarhus to host an evening dedicated to the creative game development industry.
Filmby are bringing down a delegation of game developers ranging from the single-person indie setup to the very best studio in Aarhus. It a fun mix of talks, workshops and play-throughs stretching into the evening at the atmospheric MFG5 base in Kiel. And as always there will be great food and drinks on offer.
PROGRAM
18:30 | Doors open
19:15 | Opening words
19:30 | Focus Your Weirdness Into Success // Esben Kjær Ravn
How Kong Orange makes people get excited for the weird games, that we can not help doing; and how it made us embark on a quest to create a stop motion video game unlike anything done before: Vokabulantis. (Including work- in-progress gameplay of that game)
20:00 | Sessions
Track 1: Pitch Your Game For Crowdfunding Success // Esben Kjær Ravn
Kong Orange recently succeeded with an outside-chance Kickstarter campaign for the stop motion game Vokabulantis. In this workshop producer and designer Esben Kjær Ravn goes over the campaign and does a lightning workshop for the participants to pitch a real or imaginary project for Kickstarter and get feedback.
Track 2: Grow your audience in Germany (and beyond) // Christian Haja
Insights and Q&A about business development in the mobile games industry with a focus on partnerships, platforms, technology, markets, trends, intellectual property & trademarks, event organization, and networking in general with the goal to identify and seize opportunities that help your company to grow.
20:45 | Play-thoughs, Show-and-tell, Q&A // Fair Games, Ahoot Media, and Chop Chop Games
A look behind the scenes at the latest work from these three Aarhus studios, and an opportunity to ask as many questions as you like.
22:30 | Game Over
‍
ABOUT THE TEAMS
Fair Games
Fair Games is a one man game studio working on the early access title called Necesse. Necesse started as a passion project many years ago and grew into the game and business it is today. Being in early access means it is in full development and has since EA release gotten over 4 times the amount of content and features. Planned for a full release in 2022.
Ahoot Media
Ahoot Media is a Danish game company specialising in serious games and gamification experiences. In the last year we have produced a demo for our upcoming game, Jack the Riddler, which strengthens confidence to speak english for non-native speakers. Simultaneously, we have also worked with the Novo Nordisk Foundation to create a pandemic game released later this year, build 30 mini-games for Danish children's television, and created an online multiplayer game for the world's leading neuro-rehabilitation center.
Chop Chop Games
Indie Studio having released the title MineRalph and currently working on next projects. Clock Tower Heroes is a new game which seeks to blend the best aspects of popular games together into a new powerhouse of a roguelike. The game takes the best elements of autochess, slay the spire and the old Final Fantasy games and combines them into a short and sweet game experience with deep strategy and infinite replayability. Current release date set for end of 2023.
Kong Orange
Kong Orange are the makers of the highly anticipated Vokabulantis game, which has people all over the world waiting (including Elijah Wood.) Also made Felix the Reaper. They'll talk about the new game, and will run a workshop on how to work with mocap and 3D-rigging for gaming.
Digital Devotion Games
An indie studio with 6-8 co-founders working on the game Project Tumble (WT). Not on stage but here to network with the Kiel and SH community!
Funding Partner: Kiel Sailing City