Dieses Event ist beendet.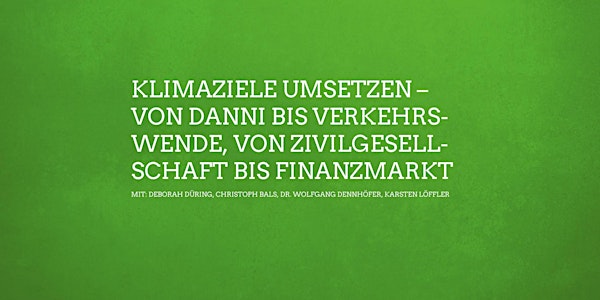 #fightfor1point5 – Klimaziele umsetzen!
#fightfor1point5 Klimaziele umsetzen! – Vom Danni bis zur Verkehrswende, von Zivilgesellschaft bis Finanzmarkt.
Zu diesem Event
Die konsequente Bekämpfung der Klimakrise ist die zentrale Herausforderung unserer Zeit. Die Beschränkung der globalen Erwärmung auf 1,5 Grad wird uns nur gelingen, wenn wir komplexe Transformationsprozesse wie die Mobilitäts- oder auch Energiewende zielgerichtet und mit der notwendigen Geschwindigkeit gestalten. Welche politischen Rahmenvorgaben sind notwendig, um innerhalb dieses Strukturwandels Erwartungs- und Planungssicherheit zu schaffen? Wie kann ein erfolgreiches Zusammenspiel von Politik, Zivilgesellschaft, Wirtschaft und Wissenschaft gestaltet werden? Und welche Verantwortung kommt der Finanzbranche zu?
Darüber diskutiere ich am 18. Januar von 18:00 bis 19:30 Uhr mit Deborah Düring, Sprecherin der GRÜNEN JUGEND Hessen und Votenträgerin der GJH zur BTW 2021; Christoph Bals, Politischer Geschäftsführer bei Germanwatch und Dr. Wolfgang Dennhöfer, Diplom Biologe und maßgeblich beteiligt an der "A 49-Klage" des BUND-Hessen
Moderation: Karsten Löffler, Leiter UNEP Collaborating Center for Climate & Energy Finance, Frankfurt School of Finance and Management
Seid dabei und mischt euch ein!