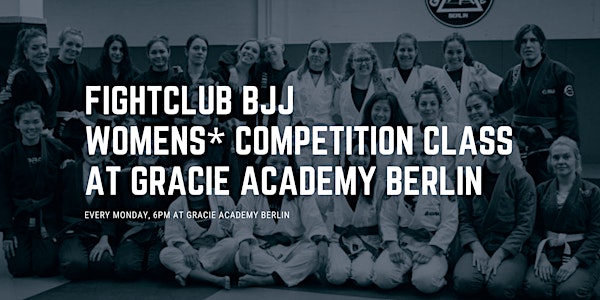 Mehrere Termine
Fight Club - Women*'s competition class at Gracie Academy Berlin
BJJ competition class exclusively for people who compete or intend to compete in women's divisions.
Datum und Uhrzeit
Mo., 9. Jan. 2023 18:00 - Mo., 18. Dez. 2023 19:15 CET
Veranstaltungsort
Fenriz Gym Lobeckstraße 36 10969 Berlin Germany
Zu diesem Event
This is a competition class exclusively for people who compete or intend to compete in women's divisions. We explicitly welcome trans, non-binary and intersex competitors. The goal is to train hard together in a safer environment. Come ready to be pushed to your limits.
We welcome colored belts from all gyms and affiliations. For white belt visitors, you need to have already competed to join. If in doubt, please contact @fightclub.bjj on instagram.
The classes are gi or no-gi depending on our upcoming events. Please either contact @fightclub.bjj on instagram or bring both options with you.
Rules of Fight Club:
1. Do not injure anyone, including yourself.
2. Do not crank submissions. Let go rather than hurt your partner. 2a. Work your late stage escapes, but be fair and tap if you got caught.
3. Choke as hard as you want. It's their fault if they pass out. 3a. Do not pass out. Tap.
4. Go as hard as you can without violating rule 2 and 3. This is a competition class.
5. Come with a game plan in mind. Know your takedown and your guard pull. Know the grips you want. Ask higher belts for help figuring out your strategy if you need to.
6. Do not accept! Not the takedown, not the guard pass, not the sweep.
7. Any drill you do ends in a scoring position. That means securing and controlling. Don't stop halfway.
8. If you have a significant size or skill advantage, work your plan B, C, or D. It is your job to make it competitive and worthwhile for both.
9. There is no winning in Fight Club. We are all training to get better together and win out there.
10. Tell everyone you meet about Fight Club.
Über den Veranstalter
Fenriz Gym is your number one location for martial arts training in Berlin.
We offer MMA, Muay Thai and Gracie Brazilian Jiu-Jitsu for beginners and pros. 
With over 1400m2 of space we are the biggest MMA gym in Berlin. Aside from martial arts we host fitness and calisthenics classes.
Our gym is equipped with a competition sized mma cage and a boxing ring, punching bags, fitness area with weights, kettle bells, rowing machines, assault bikes and much more.
Join one of our free trial classes today and become part of Team Fenriz.
 Participation in 2 trial classes is free of charge.