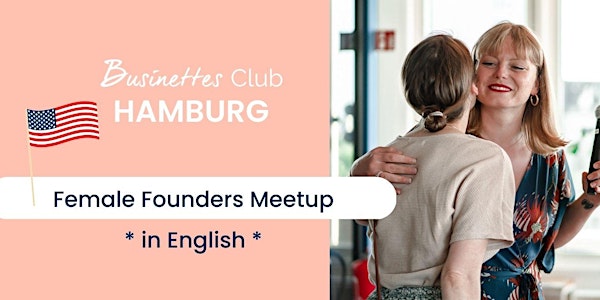 Female Founders Meetup Hamburg *in english*
Get to know other (aspiring) female founders in Hamburg at the Businettes Club Hamburg Meetup! Exchange and network
Von Businettes | Female Founders Hub
Datum und Uhrzeit
Di., 11. Apr. 2023 18:00 - 20:00 CEST
Veranstaltungsort
La Paninoteca Alstertor 21 0095 Hamburg Germany
Rückerstattungsrichtlinie
Rückerstattungen bis zu 7 Tage vor dem Event
Zu diesem Event
2 Stunden

Mobile E-Tickets
An entrepreneur's every day life can sometimes be quite a roller coaster ride. With the right network at your side, the ride becomes lighter, more successful and can even be really fun!
Get to know other English speaking female entrepreneurs at the Businettes Founders Meetup Hamburg! #togetherwearestronger
You can expect an inspiring exchange with female founders from Hamburg, networking and space for your questions about your business idea and startup.
The topic of the April Meetup: Personal branding
The topic of the May Meetup: Legal issues in founding and contact sharing
The topic of the June Meetup: Online Tools & Business Automation
The July Meetup topic: How do I organize myself?
The topic of the August Meetup: Customer Approach - Marketing
The topic of the September Meetup: Financing + Tax Issues
The topic of the October Meetup: Team expansion - cooperation with freelancers/co-founders/first employees
The topic of the November Meetup: Startup-Life-Balance
The topic of the December Meetup: Prototyping
Be there!
⬇️
Become a Businettes Club member now to register for the Meetup
or
Book a one-time "teaser ticket"⭐
⬆️
⭐ If you book the annual membership for the Businettes Club after the event, we will deduct 50% of the Eventbrite taster ticket price from the total, i.e. 10€ discount for you! (Offer always valid until 10 days after event date). The annual membership costs you only 180€ for twelve Meetups in one year.
Important!! The location is always valid for the upcoming Meetup and will be updated before the next Meetup!
Our Businettes Club Ambassadors in Hamburg are looking forward to meeting you!
Agenda
Welcome and Intro
Monthly review - using the Businettes Worksheets
Intorduction (60 Sekunden / participant)
Topic of the month: processing and discussion
Free networking
Wrap-up
About Businettes
Businettes is an online incubator and the ideal place to start your own business. In addition to our startup program, in which you work on your business idea step by step with targeted exercises, we have an online community with over 700 women who regularly exchange ideas and support each other. In addition, we offer the Businettes Club, where you can exchange ideas with local women founders in your city.
Businettes Club Hamburg *in English*
Network away from the screen, locally with female founders in Hamburg - and all that in English! At the Businettes Club Hamburg, you can expect monthly get-togethers with other female founders, mastermind groups, an annual subscription to Emotion magazine and many other benefits.