Presentation about Gender Equality in Europe
About this event
Over the last months "Female Expats United" have been a part of an international working group for gender equality in Europe, which is a part of the WISE4ALL Challenges and financed by EU Parlaiment.
Check WISE4ALL Challenges
"This event represents the conclusion of the works of the Social Pillar Working Group (WG), coordinated by the Italian association "Libera. Associazioni, nomi e numeri contro le mafie" within the WISE4All Challenges project.
The WG promoted a survey in order to collect the opinions of citizens from several European countries on gender (in)equality.
The results were then elaborated and a toolkit was created to provide a first bottom-up strategy for Civil Society Organisations' actions.
The issue and the results obtained will be discussed with Giulia Baruzzo (Libera International), Valentina Zoccali (S-Com), Cristina Figueroa (Rey Juan Carlos University), Jesús Palomo (FIADYS),
Anja Kadt (Female Expats United) and Marta Buggio (CHANCE network - Bulgaria)"
You can join this event on
Facebook:
https://fb.me/e/1v2KWvjkW
or
Zoom:
https://us02web.zoom.us/j/82333936587 Weniger anzeigen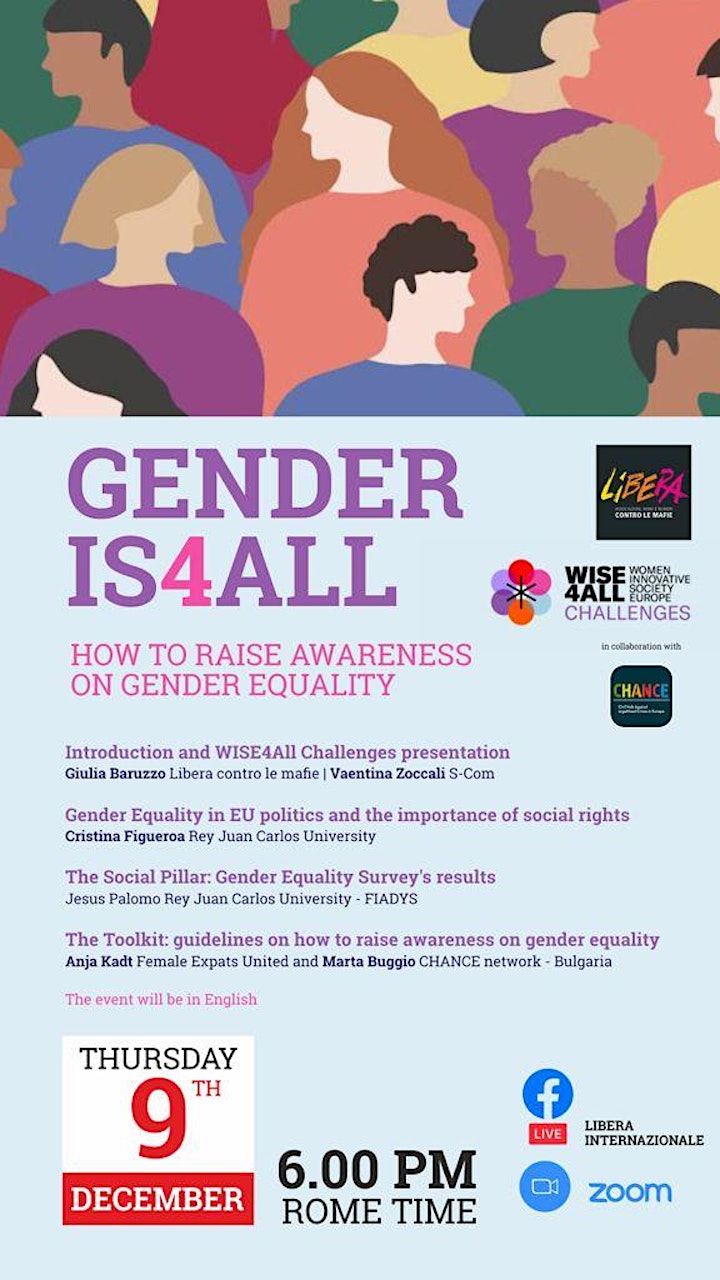 Organizer of Female Expats United & WISE4ALL - How to raise awareness on Gender Equality
Female Expats United bring female expats together.
There are many, individual ways to create a healthy and successful life as female expat.
We create and organize events as workshops, seminars, talks, panels, parties, interviews etc.
Female expats learn and benefit from each others experience, wisdom and challenges to move on optimistically and with much more energy.
The private as well as the professional network and personal mindset will be expand.