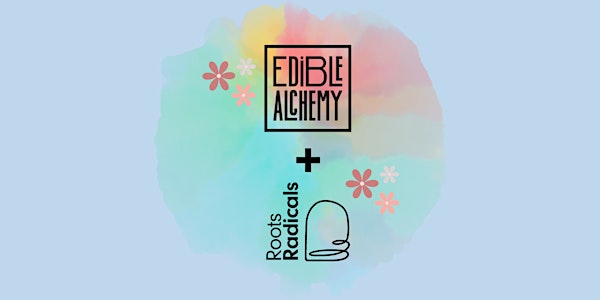 Feierabend x Edible Alchemy
A Special edition featuring the famous Bacteria bar by Edible Alchemy, the yummy hummus sandwiches by NoHut & some new creations by Roots!
Date and time
Friday, June 2 · 6 - 11pm CEST
Location
Roots Radicals Oberlandstraße 26-35 12099 Berlin Germany
About this event
The Roots Radicals team is pleased to invite you to a new edition of our Feierabend party at our Canteen, located in the Atelier Gardens Campus in Tempelhof.
What's on the agenda? Get ready for an evening to remember 😉
1. Edible Alchemy is bringing their signature Bacteria Bar.
Great friend of Roots Alexis from Edible Alchemy will be gracing us with her presence. Get ready for some "Radical Alchemy" as we brew up some mind-blowing creations, bringing together the best of both our worlds. Think fermented, foraged, upcycled and spicy! Not to mention the usual jaw-dropping pre-biotic sodas, kombucha cocktails, liqueurs, herbal spritzers and more that the Bacteria Bar is renowned for.
2. The glitter corner is BACK!
Here at Roots Radicals we love a good sparkle and are very grateful to have Jeen from Projekt Glitter returning, to share some glitter love around! Projekt Glitter makes biodegradable glitter made from plants, not from plastic ;)
3. On the decks we welcome WUMANAS
And on the music decks we will have some disco-funky tunes from the international multi-disciplinary female collective Wumanas.
4. Hummus sandwiches by Nohut
And if that wasn't already enough, on the food front we have long-time friend of Roots, Volkan from NoHut bringing his famous Hummus flatbreads. The best hummus and fresh Fladenbrot in Berlin! Come with an empty stomach because you won't be able to get enough of these!
5. The nibble section is covered by Roots Radicals
And for the last but not least, the Roots team will be presenting our brand new "Aperitivo", a sharing plate featuring some of our best pickles and a few new creations.
Looking forward to dancing, eating, drinking & glittering together 💃🏻
The Roots Radicals Team 💚