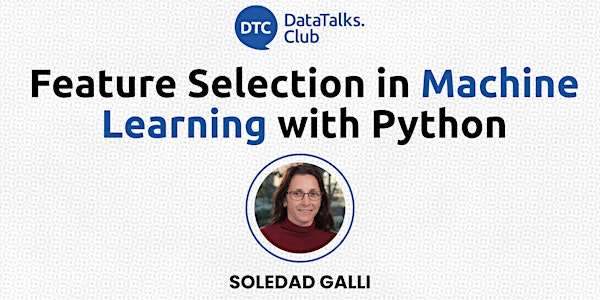 Feature Selection in Machine Learning with Python
Build simpler, faster, and more reliable machine learning models - Soledad Galli
About this event
Outline:
Feature selection is the process of selecting a subset of features from the total variables in a data set to train machine learning algorithms. The aim of any feature selection algorithm is to create classifiers or regression models that run faster and whose outputs are easier to understand by their users.
In this talk, I will discuss some of the most widely used feature selection methods among filter, wrapper, and embedded methods for feature selection. Then, I will mention additional methods that are faster or more scalable. And finally, I will show how to implement feature selection in Python using the open source libraries Scikit-learn, MLXtend, and Feature-engine.
About the speaker:
Soledad Galli is a data scientist, instructor, and software developer with more than 10 years of experience in world-class academic institutions and renowned businesses. She has developed and put into production machine learning models to assess insurance claims, credit risk, and prevent fraud.
Sole teaches online courses on machine learning, which have enrolled 40,000+ students worldwide and consistently receive good student reviews. She is also the developer and maintainer of the open-source Python library Feature-engine, which is currently downloaded about 100k+ times per month.
Feature selection in machine learning book: https://leanpub.com/feature-selection-in-machine-learning
Feature selection in machine learning course: https://www.trainindata.com/p/feature-selection-for-machine-learning
Soledad Galli: https://linkedin.com/in/soledad-galli
DataTalks.Club is the place to talk about data. Join our slack community!