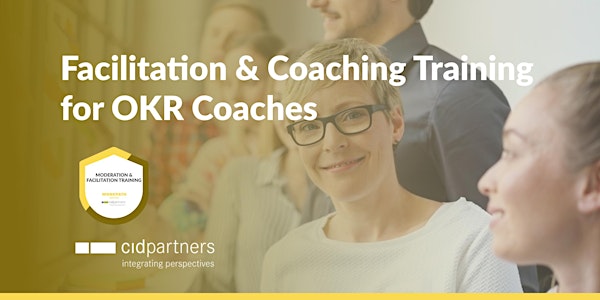 Facilitation and Coaching Training for OKR Coaches (EN)
Learn how to facilitate efficient and powerful (OKR) events!
About this event
Facilitation and Coaching for OKR Coach and Practitioner
Working with OKRs means discussing regularly about goals, achievements and learnings. These discussions can be challenging, time-consuming, and at times frustrating. But it doesn't have to be this way! OKR rituals can be fun, co-creative and extremely productive. In our projects we experience how important facilitation and coaching skills of the OKR Coaches are for a sustainable OKR implementation.
Experiences shows: Well facilitated OKR rituals are key for success
In our facilitation training designed for OKR Coaches, OKR Practitioners and Agile Coaches working with OKRs, we show you how to facilitate successful (OKR) workshops. You will be provided with instruments for workshop planning and learn how to navigate even difficult situations with confidence and ease.
What you will learn in this hands-on training
Exemplifying agile leadership and agile principles
Designing powerful workshops that activate and motivate participants
Chances and challenges of virtual and face-to-face meetings
Must-know facilitation and coaching skills for OKR Coaches (e.g. rhetoric, coaching mindset, presence, …)
Successfully dealing with typical conflicts and challenges in (OKR) workshops (e.g. facilitating discussions on goal conflicts, dealing with frustrated team members)
Facilitation toolbox for effective (OKR) workshops
Please note that the detailed planning of OKR-rituals such as drafting, alignment, retro and review is not part of this training. We focus on learning and practicing general facilitation and coaching skills for OKR Coaches and practitioners. If you want to learn in detail how to conduct a drafting workshop and how to align OKRs, please attend a Workpath OKR Masterclass (https://www.eventbrite.de/o/workpath-gmbh-18060399992).
Our training is highly interactive and integrates short theory chunks with practical exercises and the exchange with peers. This proven training design allows maximum learning success in virtual settings.
Agenda for the training
Day 1 (9:00-13:00 hrs)
Intro and Check-In
Why is facilitation so important?
Challenging situations in your OKR processes
How to handle "challenging" situations (e.g. goal conflicts, critical participants)
Stance as Coach and Facilitator
Check-Out
Day 2 (9:00-13:00 hrs)
Check-In
Power Toolbox for Facilitation and Coaching
Tips and tricks for Facilitators and Coaches
Practice Space
Personal Actions
Check-Out
We are looking forward to tackle your OKR-facilitation challenges and share our best hands-on tips and tricks!
The training will be held in English.