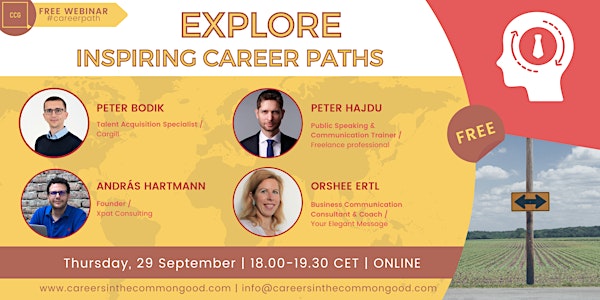 Explore Inspiring Career Paths
Join our Explore Inspiring Career Paths series! Focus: Leaving the Rat Race!
About this event
We're starting in an hour!
You can join following this link:
https://us06web.zoom.us/j/85758429116?pwd=b1hMTUFEa2N4NFNGR0Y2NklmNUdKZz09
ID: 85758429116 Passcode: 110940
Join us for a panel discussion series on inspiring career paths!
Learn about career paths that interest you
See windy roads not only the perfect CV
Hear diverse ways you can reach your dream career
Discover ample ways to work toward the common good...
Meet the panellists:
In this panels you will…
Discuss career doubts and challenges
Learn true stories of finding one's job
Get to know how one decides to leave their job -- the rate race -- and start a new chapter
Discover what the mental and physical impacts of being in a rat race can be
Hear stories of fresh starts
Get advice on how to unstuck
——
The mission of Careers in the Common Good is to inspire the young adults to apply their passion for the enrichment of their communities.
Apart from these panel discussions, we offer online workshops. We are happy to offer these workshops on demand for a university or youth organisation, too.
Visit us at https://www.careersinthecommongood.com to learn more.
——
We are a volunteer-run project. Our Explore Inspiring Career Paths panels are free, but if you are able, we welcome donations to keep the coffeepot full.