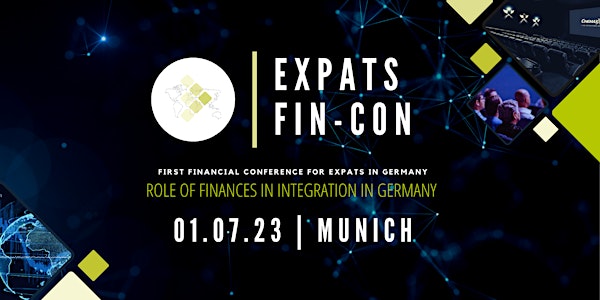 EXPATS FIN-CON - Financial Conference for Expats in Germany
What role does finance play in integration processes in Germany? Visit Germany's first Financial Conference for Expats! #EXPATSFIN-CON23
Date and time
Saturday, July 1 · 10am - 6pm CEST
Location
CinemaxX Munich Isartorplatz 8 80331 München Germany
About this event
Finance is a core topic of integration for expats in Germany. At HORBACH Expats we are changing the market one expat at a time. Meet us, our partners, and join our collectively achieved change.
Community managers and influencers, are you passionate about helping expats succeed in their integration process in Germany? Then the #EXPATSFINCON23 is THE place to be. Join the change at Germany's first ever financial conference from expats for expats! Discover the importance of financial planning in integration, and learn from experienced professionals and fellow expats. Help your community thrive and grow your business by expanding your network.
The Expats FIN-CON 23 is a must-visit for
policy makers
expat professionals/entrepreneurs in germany
HR professionals
relocation & global mobility experts
thought leaders
innovators
expat advocates & influencers
who seek to network and connect with further professionals to work towards reshaping finances for expats in Germany!
Navigating different financial systems internationally can be challenging - especially when you are living in Germany, but our financial experts are here to help. Join us at #EXPATSFINCON23 and learn how to bridge the gap between financial systems, especially as an expat in Germany. Discover valuable insights, tips, and strategies for managing your finances across different countries and systems, and unlock the opportunities that Germany has to offer. Don't miss this chance to take control of your finances TODAY. Join us at #EXPATSFINCON23- where the world meets in Germany.
🗣 Join our experts from HORBACH Expats together with Jen Palacios, Stefan Remhof, Vanessa Wachtmeister, Dr. Sebastian Klaus, Erica Burett, Daniel Zinner, Tia Robinson, Spomenka Vukojičić, Lana Poljak, Manie Eagar, Himadri Sanyal, Christine Sutschek, Endrit Çela, Kate Mueser and Albert Rühling in the fields of:
Integration factors in Germany
Job seeking processes for expats
Expat entrepreneurship
Investing in Germany
International health care & social security systems
Residence permits and legal framework
Taking place at the Cinemaxx in Isartor, in the heart of Munich
🔥 NOW ON SALE! 🔥
For only 89€ you get an all-inclusive package:
Full access to the conference & panel discussions (incl. food)
1-year cost-free membership HORBACH Expats Community
Cost-free complimentary professional financial plan analysis (worth 95€)
10€ voucher for drinks in the venue
AGENDA WILL BE VISIBLE HERE BY 01.06.2023
Frequently asked questions
I'd like to offer 10+ tickets for my community - is that possible?
I want to bring a friend - do they need a ticket?
What is included in the ticket?
I'm traveling by car - are there parking spaces nearby?
How accessible is the location?
Is the location children-friendly?
Is the location pet-friendly?
About the organizer
HORBACH Expats
Munich-based and active Germany-wide.
EN | DE | ES | HR | RU | FR | TR