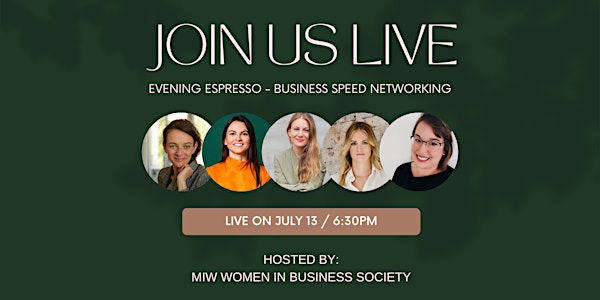 EVENING ESPRESSO - FREE Virtual Networking by Women in Business Society
Ready to meet other passionate Womxn in business? Join our quick and revitalizing Evening Espresso Speed Networking event.
About this event
Join us at our next Evening Espresso Speed Networking Event this July. Meet like-minded women in an inspiring, fast-paced supportive environment. Make the most of the connections this community has to offer, get to practice shouting all about how awesome your business is AND get the chance to brainstorm in small groups to work through any challenges you're having 🤩
Never been to the event meetup before? Here's what to expect:
• Intro: quick welcome and informational hello from our team
• Pitch Round – chance to practice your elevator pitch in a safe environment or to share a challenge you currently face in your professional life
• Feedback Groups – separate rooms with 2-3 members to receive feedback and support
• Round Up – back to the general group, share your thoughts and results of the talks
The logistics:


🖥 Registration: After your registration on Eventbrite, you will receive a reminder e-mail with the meeting link before the event.
ABOUT THE GROUP >> Women in Business Society is an exclusive community where you can connect and network with like-minded ambitious women ✨ Our events provide thought-provoking inspiration to help you grow personally and professionally, expand your network and strengthen yourself for future success. Join us to expand and elevate your skills, achieve your goals and become your best self! 🥂 Network, Collaborate & Introduce yourself and your business while making long-lasting connections! 💛
JOIN THE GROUP: https://www.facebook.com/groups/womeninbusinesssocietybymiw