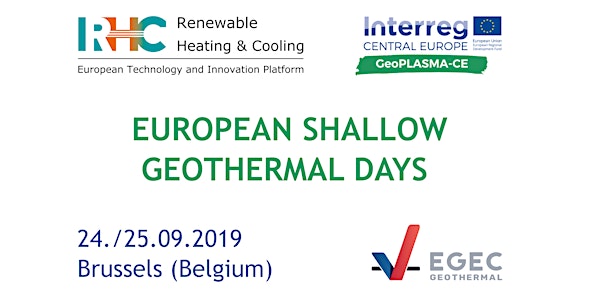 European Shallow Geothermal Days
When and where
Location
Copa-Cogeca meeting room Rue de Trèves 61 1040 Brüssel Belgium
Description
Shallow geothermal energy– a game changer towards decarbonized, low emission heating and cooling supply in Europe!
Shallow geothermal energy represents a well-developed, non-volatile and clean technology for providing efficient heating and cooling across Europe. It is often associated with the use of ground source heat pumps, but offers a wide range of applications such as geo-cooling or seasonal heat storage. Still, it is widely considered as a niche technology, however it has the potential to become a powerful game changer as a decarbonized heating and cooling technology. The next decade from 2021 until 2030 is crucial to fulfill the sustainable development goals defined in the "Clean Energy for all Europeans" initiative of the European Commission.
The Shallow Geothermal Energy Days aim at connecting policy makers to scientists, to promote and discuss opportunities for boosting this technology in the upcoming decade. We invite you to join this event, raise your voice and learn more about shallow geothermal energy in Europe!

Due to the limited capacities, the participation is only possible after successful confirmation by the organizers.
The registration will close on September 3rd 2019.
Call for contributions
We are searching for innovative solutions and good practices of an efficient and sustainable use of shallow geothermal across Europe. There are limited slots available for short (15 minutes) presentations. All case studies can be presented during a poster session including flash presentations during the cocktail reception. Please contact info@geoplasma-ce.eu for applying to the innovative and good practice session before 3rd of September 2019.
Important logistic note!
In the week of September 23 to 28, Brussel will host the European Research and Innovation Days. We already get informed that most hotels are already heavily booked. So please book your accommodation as soon as possible! Another option would be to stay outside of Brussels for the night. We recommend for example Leuwen, which is well connected to Brussels city center by train and offers nice hotels at reasonable prices. We are happy to support you in logistic issues – please contact com@egec.org.
Please note that attending this event is free of costs.
Organizing panel
Interreg Central Europe project GeoPLASMA-CE (www.geoplasma-ce.eu), Renewable Heating & Cooling-European Technology and Innovation Platform (www.rhc-platform.org), European Geothermal Energy Council (www.egec.org).
Supported by
EuroGeoSurveys, GeoERA-MUSE, ENERG, European Heat Pump Association