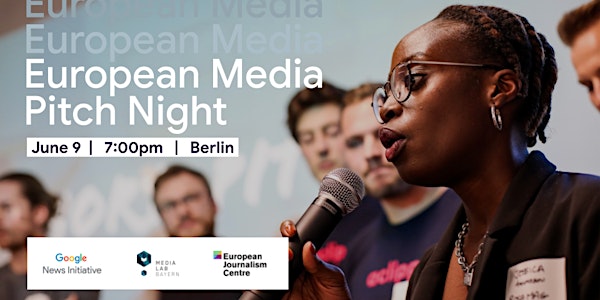 European Media Startup Pitch Night - Covering underserved Audiences
Location
Google, Berlin
Tucholskystraße 2
10117 Berlin
Germany
Live pitches and networking opportunity with nine news startups from across Europe, serving underserved communities with a purpose!
About this event
Please join us for a pitch event, where nine startups coming from across Europe - from London to Lisbon to Ljubljana - are presenting their unique media idea, targeted towards communities, who have been overlooked by other news outlets. If you want to learn about European niche audiences, content monetization strategies, international and/or local journalism - just keep on reading!
Agenda
Learn more about the mission of the founder, their values and individual approaches. Listen to their pitches and meet the founders casually over a drink and some snacks to build new connections to innovative and unique European media outlets.
19:00 - 19:30 - Time to arrive 🎟
19:30 - 20:30 - Welcome & Pitches ✨
20:30 - 22:00 - Get together 🎉
Startups
🇷🇴 Átlátszó Erdély - independent news outlet for Transsylvania
🇪🇸 Baynana Revista - first magazine for Arabic-speaking refugees in Spain
🇸🇮 Časoris - trustworthy news outlet for Slovenian children
🇫🇷 Media'PI! - video news articles for the French deaf community
🇵🇹 Mensagem de Lisboa - local news in the metropolitan area of Lisbon
🇮🇹 RADAR magazine - visual, investigative reporting on climate justice in Italy
🇷🇴 Recorder - independent video journalism platform for investigative stories in Romania
🇬🇧 Shado Mag - print and online magazine built upon a community creators network
🇲🇹 SideStreet Malta - social-media-first news platform with a focus on Gen-Z
Partners
This event is brought to you by Google News Initative, Media Lab Bayern and the European Journalism Centre (EJC), who joined forces to support startup founders from the European media sphere, who are serving previously underserved communities through unique content or news.
We are looking forward to welcoming you to this event! The admission for this event is free, but requires a registration beforehand. Food and drinks will be provided. See you there! 👋