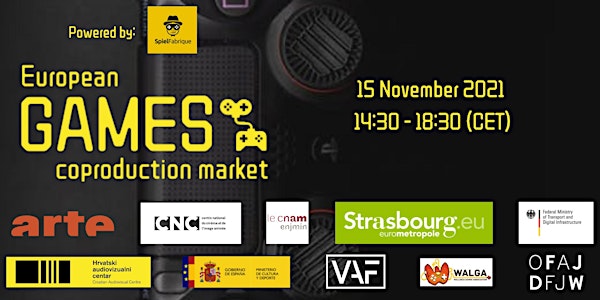 European Games Coproduction market
Discover new video games concepts to be developed in coproduction and learn about financing opportunities for video games in Europe.
About this event
After 3 Franco-German coproduction markets with the support of ARTE France, the City and Eurometropolis of Strasbourg and the Franco-German Office for Youth (OFAJ-DFJW), SpielFabrique extends this year's Market beyond France and Germany to three other European countries: Belgium, Croatia and Spain, thanks to the support of the Croatian Audiovisual Center (HAVC), the Flanders Audiovisual Fund (VAF), Walga (The Wallonia Game Association) and the Spanish Ministry of Culture and Sports.
The teams selected for the Market followed a path marked by several meetings and events. The first meeting was an online match-making day on 29 and 30 June 2021. The aim was to identify their potential future co-producers. All projects that found a co-producer in June are now being mentored by SpielFabrique in preparation for the Co-Production Market, which will take place on 15-16 November at ARTE's premises in Strasbourg.
At this final event, each co-production project will be presented to a panel of European financiers, editors and experts.