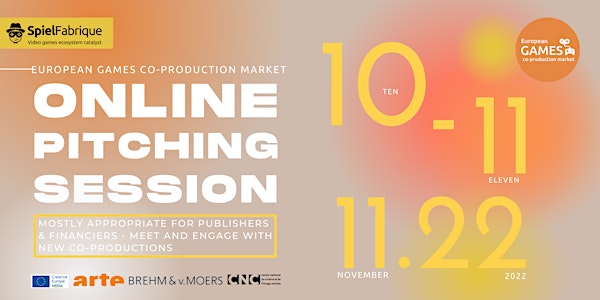 European Games Coproduction Market - Online Pitching Session
Final event of the European Games Coproduction Market. Online pitching session of the coproduction teams.
About this event
Introduction
The European Games Coproduction Market (EGCM) aims at bringing studios from all over Europe to develop and finance indie games together.
More information can be found on our website: https://spielfabrique.eu/european-game
The online pitching session represents the final event of the program. The different teams met online in June and decided to collaborate on a common project. They have been mentored by European experts in September in Strasbourg (France). They are now ready to pitch their coproduction !
Join us to attend the online pitching session on Zoom ! If you are a publisher or a financier, you are welcomed to join our MeetToMatch event to meet the teams !
Full Agenda of the Online Pitching Session
November 10th 2022
● Welcoming words & Introduction – 10:30 – 10:45
Thierry Baujard – SpielFabrique
● Pitching Session of the coproduction projects – 10:45 – 12:00
Maximum 5min per pitch
Maximum 10 coproduction teams
● Online meetings – 12:00 – 19:00
Publishers & Financiers must be registered on MeetToMatch
November 11th 2022
● Online meetings – 9:00 – 19:00
Publishers & Financiers must be registered on MeetToMatch