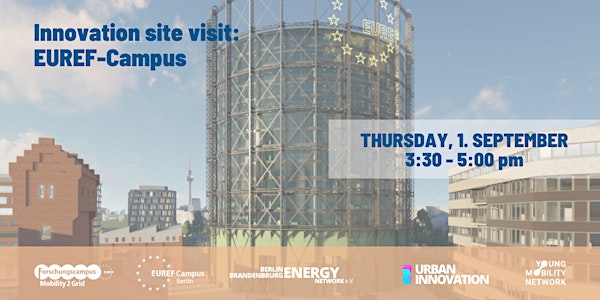 EUREF-Campus Visit
On Thursday, September 1, we invite you to visit the EUREF-Campus Berlin!
When and where
Location
EUREF-Campus EUREF-Campus 1-25 10829 Berlin Germany
About this event
On September 1, together with ResearchCampus Mobility2Grid, Urban Innovation,and the "Young Mobility Network", we invite you to visit the EUREF-Campus Berlin and get an exciting overview of the industry and current developments in the Berlin ecosystem.
Nina Weber, Co-Managing Director at ResearchCampus Mobility2Grid, will inform us about the current research developments at the campus and will show us which innovative companies from the areas of #energy, #sustainability and #mobility are represented on site.
The Berlin-Brandenburg Energy Network e.V. (BEN) is the association of renewable energy and related research institutions in the capital region. It acts as an intermediary between business, politics, and science to promote solutions for the effective implementation of the energy transition in the region and supports entrepreneurial activities of the industry.
EUREF-Campus is a genuine place of the future when it comes to sustainability, energy and mobility. Since acquiring the property in 2008, EUREF AG has been developing the city district around the "Gasometer" (Gasholder) into a real-life laboratory for the shift to renewable energy. With an innovative community comprising business and science, a climate-neutral energy supply, an intelligent energy grid, energy-efficient buildings, a testing platform for future mobility and numerous research projects, the daily proof is provided that the shift to renewable energy is doable and financially feasible.
In the Research Campus Mobility2Grid, companies, universities, and research institutions cooperate relying on partnership and interdisciplinarity. The association Mobility2Grid e.V. coordinates the project. It is located in the EUREF area in Berlin Schöneberg, which also serves as a living lab for the Research Campus.
Urban Innovation connects startups, scaleups, and other organizations from Berlin with high-level ecosystem players in London, New York and Singapore to help them elevate their businesses to the next level. Urban Innovation is initiated by Berlin Brandenburg Energy Network e.V. and funded by the Berlin Senate Department for Economics, Energy and Enterprises and its program for internationalization "Berlin goes global" and the European Regional Development Fund (ERDF).
The "Young Mobility Network" is a free network for young professionals with an affinity for mobility who want to get to know each other, exchange ideas, support each other and develop personally across locations and companies.