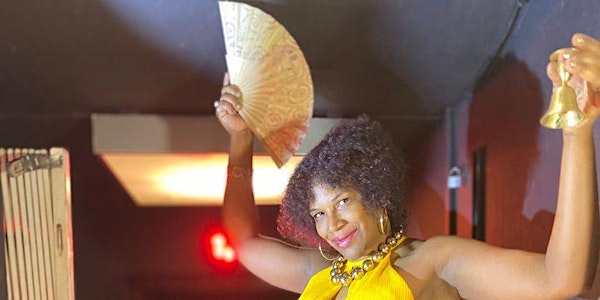 Ethno Dance Bar
A weekly venue to learn, rehearse, and celebrate electronic and eclectic dance. At the intersection between party and ritual dance lessons.
When and where
Location
Bergmannkiez Zossenerstr. 26 10961 Berlin Germany
Refund Policy
Contact the organizer to request a refund.
About this event
UPDATE: This is an event page under construction as the original event not only would be rescheduled but also would come back in a different yet more comprehensive form. Stay connected and feel welcome to join us when the time comes. Sincerely, Regina (LoMío)
Please, read this description till the end before you come to the event. Thank you very much!
given by Regina LoMío (dance teacher, facebook.com/reginalomio )
organized by LoMío (facebook.com/lomiosi)
Facebook event: https://fb.me/e/4umj0WFbh. Please, follow the event in Facebook to get notified of any change or update. Once in Facebook, you are welcome to click on "Interested" for the whole event and to follow the event's Discussion. On a mobile device, just go to the page of the whole event and then expand the Discussion by clicking on "See all>" to display all posts.
I guess I first need to do a full disclaimer here. First- Be sure I am fully aware that a bar is not the usual venue for techno dancing. Second- You would be partially right if you could guess that without the ongoing Covid pandemic I would have probably never come up with the 'crazy' idea of teaching techno dancing, since it is commonly perceived as the most go-free do-whatever dance style ever. And yet....I must confess that as a longtime club goer and Techno enthusiast I have always felt something could be done to improve people's sense of rhythm and dance ability while dancing to house-electro-techno in and out of the club. No, it doesn't have be that monotone!
We have done it open-air in the last 2 years in the Viktoriapark (link to previous event: https://fb.me/e/1AzZbsW7j) and I don't have any plan yet to stop doing it. This is an event to understand techno dance not just as party-relevant. I would like to show you how to dance more consciously, more spiritually (indeed like in a ritual) to techno and electronic musics of all sorts without losing the ability to have fun and without needing anything else than good will, good music, friendly surroundings and perhaps, my help.
A little intro to the matter in question: Since the past 40 years a new (though not so out-of-the-blue) dance-friendly music has emerged: electronic dance music. From the very Afro American house of Chicago and Techno of Detroit to the European post-industrial Techno pioneers of Dusseldorf, Manchester, and Berlin the behavioral revolution had to be danced! One aspect of most dance-friendly electronic music is the (poly)ryhthmic command of it, its beat, the repetitive and at times deliberately psychedelic effect on our minds. Blended in the lessons without a particular sequence, we will dance to the following music styles: House (Classical, Acid, Italian, Afro, tech, deep), Techno (old-school, current, ethereal, space), Minimal, some Ambient, Industrial, some Drum&Bass, some Ethno(Techno), Trance, diverse meditative and ritual(ish) electronic music and occasionally some spoken-word and non-electronic music with related subjects and histories.
In this particular event the purpose would not be to learn particular (traditional) dance steps or styles, instead we will aim at finding a ritual-like interpretation of the music we play. A real free-style ordeal where you will be more than encouraged (and helped) to find your own authentic dancing self. Blended in the lessons without a particular sequence, we will dance to he following music genres:
techno/tekkno/house/electro/ambient/lounge
All kinds of (ritual-ish) electronic music.
afrobeat
African folklore and popular music
jazz/blues/R&B
soul/funk/neosoul/hiphop
pop/synth pop/some rock (e.g. glam)
Afro Cuban folklore/son/salsa/mambo/chachachá/and more
Brazilian, Jamaican/and any so called "world music"
Level: level-independent
Dates: Nearly every Thursday but check occurrence and attendance here in Facebook whenever possible. The dance rite and lesson will start sometime between 20:00 and usually 20:30 or when there are about 3 people at least. Thus you don't have to worry if a bit late but don't overdo it, generally before 20:40 there is good chance you'll get most of the lesson and rite. After the lesson there will be open dance floor. The bar opens at 19:00 and you are welcome to come before 20:00 if you wish so. Needless to say: we don't care about dresscodes as long as you bring your authentic self!
Price: Free entrance. We will be glad for your 3 to 10 EUR contribution to the dance act.
Corona-required hygienic measures: Same as required for a café/bar at a given moment.
Language: English (German or Spanish on request).
Address: To be found.