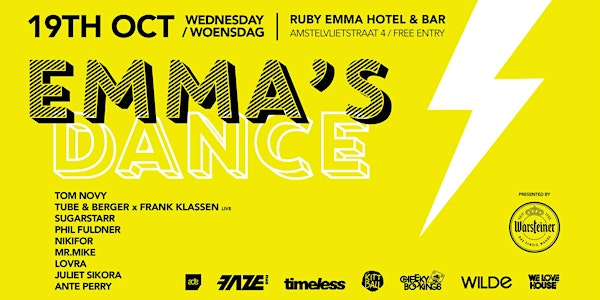 Emma's Dance at Ruby Emma Hotel & Bar
★ TOM NOVY ★ TUBE & BERGER ★ SUGARSTAR ★ PHIL FULDNER ★ and more
When and where
Location
Ruby Emma Hotel & Bar 4 Amstelvlietstraat 1096 GG Amsterdam Netherlands
About this event
Hey Sunshine,
When the house elite meets in the new Ruby Hotel in Amsterdam, then of course it should be celebrated properly!
Therefore, on 19.10.2022 from 19:00 you are invited to Emma's Dance to celebrate together the start of the legendary Amsterdam Dance Event and the opening of Ruby Emma Hotel & Bar.
Line Up
Ante Perry (GER)
Tom Novy (GER)
Tube & Berger (GER)
Frank Klassen live on Cello (GER)
Mr. Mike (SUI)
Juliet Sikora (POL)
Sugarstarr (GER)
Solvane (GER)
Phil Fuldner (GER)
Playtime: 19:00 - 02:00
★ FREE ADMISSION ★
The tone at Emma's Dance is set by ADE-experienced DJs, who will provide us with the finest house music in an energetic ambience from 7pm onwards on the official start day of the festival and make the brand new Ruby Emma Hotel the homebase around the Amsterdam Dance Event.
Emma's Dance will take place on the former site of the Zuidergasfabriek, which supplied electricity to Amsterdam's households for decades. The Ruby Family recently moved there with their newest hotel and, as always, they're up for a dignified celebration.
AMSTERDAM DANCE EVENT
From 10/19/2022 to 10/23/2022, arguably one of the most important weeks of electronic music will take place in Amsterdam. ADE stands for a globally recognized platform of electronic music culture. This week in October definitely presents itself as the hotspot when it comes to musical trends, innovative new developments, up-and-coming newcomers and exciting new works by stars of the scene, among other things. Ruby Emma participates in one of the biggest networking gatherings of the international dance scene together with good friends like FAZE Magazine, Kittball, Wilde Booking, Timeless, as well as some well-known artists of the house scene.
Find out more about Ruby Hotels 👇
https://www.ruby-hotels.com/emma
**discounted hotel rooms for the whole ADE time while supplies last
We have blocked 20 double rooms for you on all ADE days at the brand new Ruby Emma Hotel. The rooms are available on the website www.ruby-hotels.com with the Ruby code *ADE2022*. With this code you get 30 percent discount! The credit card is deposited at the time of booking and the room is guaranteed. The card will be charged after the cancellation period of three days. The promotion is valid from 19-23.10.2022
★ MAKE IT YOUR OWN STORY ★
Please note:
Admission only with valid Eventbrite ticket!