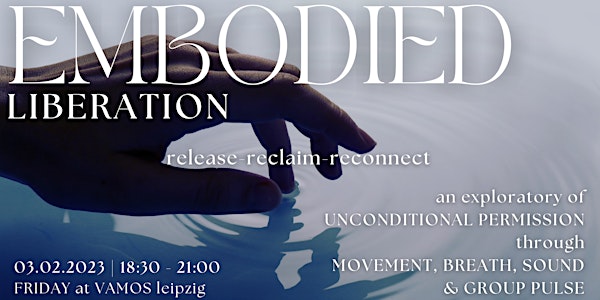 EMBODIED liberation
what happens when we hold ourselves in deep unconditional PERMISSION? A journey towards liberation through togetherness, movement & breath.
When and where
Location
Vamos Leipzig - Meditation & More Arthur-Hoffmann-Straße 58 04107 Leipzig Germany
Refund Policy
Contact the organizer to request a refund.
About this event
release supports liberation. liberation supports expansion.
𝐄𝐌𝐁𝐎𝐃𝐈𝐄𝐃 𝐋𝐈𝐁𝐄𝐑𝐀𝐓𝐈𝐎𝐍 𝐢𝐬 𝐚𝐧 𝐞𝐱𝐩𝐥𝐨𝐫𝐚𝐭𝐨𝐫𝐲 𝐰𝐨𝐫𝐤𝐬𝐡𝐨𝐩 𝐨𝐟 𝐬𝐚𝐲𝐢𝐧𝐠 𝐘𝐄𝐒 𝐭𝐨 𝐨𝐮𝐫𝐬𝐞𝐥𝐯𝐞𝐬, 𝐚 𝐭𝐞𝐧𝐝𝐞𝐫, 𝐰𝐡𝐨𝐥𝐞𝐡𝐞𝐚𝐫𝐭𝐞𝐝, 𝐞𝐦𝐛𝐨𝐝𝐢𝐞𝐝 -𝐲𝐞𝐬- 𝐭𝐨 𝐨𝐮𝐫 𝐜𝐮𝐫𝐫𝐞𝐧𝐭 𝐞𝐱𝐩𝐞𝐫𝐢𝐞𝐧𝐜𝐞 𝐰𝐢𝐭𝐡 𝐀𝐋𝐋 𝐭𝐡𝐚𝐭 𝐢𝐭 𝐢𝐬.
We come together unconditionally non-judgmental - yet with space for witnessing any judgements that arise. Softly diving into sense of accountability for our journeys, within the motto of constantly making space - 𝐟𝐨𝐫 𝐰𝐞 𝐜𝐚𝐧 𝐥𝐞𝐭 𝐠𝐨 𝐨𝐧𝐥𝐲 𝐰𝐡𝐚𝐭 𝐰𝐚𝐬 𝐟𝐞𝐥𝐭, 𝐝𝐫𝐨𝐩 𝐨𝐧𝐥𝐲 𝐰𝐡𝐚𝐭 𝐰𝐚𝐬 𝐰𝐢𝐭𝐧𝐞𝐬𝐬𝐞𝐝, 𝐬𝐞𝐞𝐧 & 𝐡𝐞𝐚𝐫𝐝.
So we make space - for what is love, for what is truth, for doubt and uncertainty, playfulness, not knowing, messing up. And we make space for our stories and projections, listen softly to the triggers, play with our patterns, guilt and shame.
You are invited to this container of courageous, open and vulnerable hearts. You are invited with all that you are. Come with your pain and bliss, grief and joy. Softness. Strength. Come in untouched permission to the broken you. The you in your power.
🪐
FRAMEWORK
** BACK TO THE BODY - softening, allowing the body to be moved by the inner field of our felt sensations, emotions and experiences. In loving permission for all that arises. Letting the movements be pure expressions of what's there.
** EMBODIED BREATHWORK - a powerful of circular breathing supported by soft emotional release tools, somatic movements, sound and touch. In sensitivity to all that's felt, compassion to what the body holds onto, intention of deep release.
** GROUP PULSE - movement, dance, stillness & all spaces in between - meeting ourselves through the group field. Meeting your heartfelt -yes- in relation to the container. A tender space of witnessing our triggers, roles and patterns.
** SHARING & INTEGRATION
🪐
WHAT TO BRING
- comfy clothes that let you move and breathe freely
- water bottle
- your curious self
🪐
WHAT'S PROVIDED
mats, blankets, cushions, tee & light snacks for our grounding (you're welcomed to contribute)
🪐
DETAILS
Friday 03.02.2023, 18:30 - 21:00
Vamos Leipzig, Arthur-Hoffmann-Straße 58, 04107 Leipzig
tickets - 15€ - 30€ - payment over here OR in CASH / through PAYPAL - just reach out :)
language - English
with love & tenderness,
Nic