Sales Have Ended
Registrations are closed
Thank you for your registration!
Sales Have Ended
Registrations are closed
Thank you for your registration!
Connect with 25 inspiring start-ups from across Europe & Israel at our Virtual Demo Day!
About this event
25 teams got to join the EIT Urban Mobility Accelerator Batch #3 in Jun. Now, after nearly 6 months of intense work, they turned their ideas into viable business models and are ready to scale.
Join us when the teams of EIT Urban Mobility Accelerator Batch #3 pitch their products and solutions!
Seize the opportunity and get an insight into the cutting-edge mobility technologies of the teams and meet and mingle with entrepreneurs, investors, company representatives, and talents!
When? Tuesday, Dec 14th, 2021 // 16:30 (CET)
Where? Virtual Event - You will receive the Zoom link once you register.
Check out the one-pagers of all 25 EIT Urban Mobility teams in our brochure.
AGENDA:
16:30 (CET) Welcome & Opening
16:45 (CET) 1-minute pitches from our 25 mobility start-ups!
17:30 (CET) Key Note: Salvatore Carso, Chief of Staff at Keyless
"The Future of Digital Identity"
18:00 (CET) Networking
19:00 (CET) The End
We look forward to welcoming you at the virtual Demo Day!!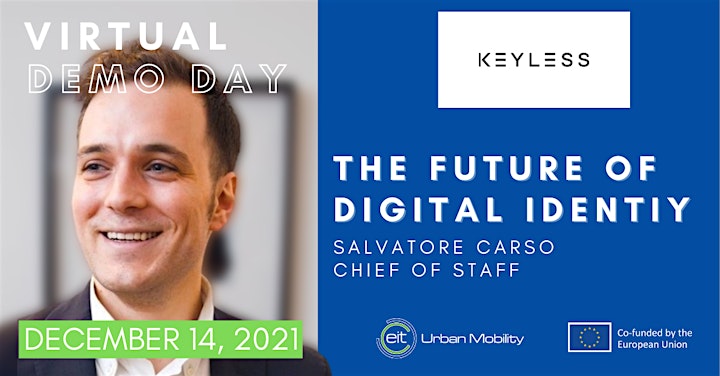 Privacy Policy EIT URBAN MOBILITY ACCELERATOR VIRTUAL DEMO DAY
We are very pleased about your interest in EIT URBAN MOBILITY ACCELERATOR VIRTUAL DEMO DAY. In the course of your registration, we ask for some personal data, which we naturally protect. In addition, we use a number of tools for technical implementation, the functioning of which we would like to inform you about below. Your personal data will always be processed in accordance with the General Data Protection Regulation and in compliance with the data protection provisions applicable to Unternehmertum GmbH.
By means of this data protection declaration, we would like to inform you about the type, scope and purpose of the personal data collected, used and processed by us and the tools used.
1. Controller
The controller within the meaning of the General Data Protection Regulation (GDPR) is:
UnternehmerTUM GmbH
Lichtenbergerstr.6
85748 Garching / Munich
Germany
E-mail: info@unternehmertum.de
Website: www.unternehmertum.de
2. Data protection officer
The data protection officer of the controller is:
Alexander Stolberg-Stolberg
SVF Lawyers
Oberanger 30
80331 Munich
Germany
Tel.: +49 (0) 89 210 25 120
E-mail: stolberg@unternehmertum.de
Website: www.svf-law.de
Any data subject may contact our data protection officer directly at any time with any questions or suggestions regarding data protection.
3. Purposes and legal bases of the processing
We need your contact details in order to process your registration for EIT URBAN MOBILITY ACCELERATOR VIRTUAL DEMO DAY. Your data will be processed on the basis of Art. 6 (1) (b) and (f) GDPR
4. Eventbrite
We will use the Eventbrite ticketing platform for registration of our events and screenings. You can find the terms and conditions of Eventbrite: https://www.eventbrite.de/support/articles/de/Troubleshooting/datenschutzrichtlinie-von-eventbrite?lg=de
When registering with Eventbrite please read Eventbrite's T&Cs and privacy policy carefully.
5. Zoom
The event will be held by using the online video tool ZOOM. Insofar as you call up the website of "Zoom", the provider of "Zoom" is responsible for the data processing. However, calling up the website is only necessary for the use of "Zoom" in order to download the software for the use of "Zoom". Further information on the privacy policy of ZOOM can be found here: https://zoom.us/privacy
6. Collection of personal data
When using "Zoom", various types of data are processed. The scope of the data also depends on the data you provide before or during participation in an "online meeting".
The following personal data are subject to processing:
• User details: first name, last name, phone (optional), email address, password (if single sign-on is not used), profile picture (optional), department (optional)
• Meeting metadata: Topic, description (optional), participant IP addresses, device/hardware information.
• For recordings (optional): MP4 file of all video, audio and presentation recordings, M4A file of all audio recordings, text file of the online meeting chat.
• When dialing in with the telephone: information on the incoming and outgoing call number, country name, start and end time. If necessary, further connection data such as the IP address of the device can be saved.
• Text, audio and video data: You may have the opportunity to use the chat, question or survey functions in an "online meeting". In this respect, the text entries you make are processed in order to display them in the "online meeting" and, if necessary, to record them. In order to enable the display of video and the playback of audio, the data from the microphone of your terminal device and from any video camera of the terminal device are processed accordingly during the meeting. You can switch off or mute the camera or microphone yourself at any time via the "Zoom" applications.
In order to participate in an "online meeting" or to enter the "meeting room", you must at least provide information about your name. Information on data protection when using Zoom can be found here.
7. Pictures/photos
We would also like to point out that images, films and sound recordings (screenshots) will be made during the event. It is intended to use the recordings made during the event for LinkedIn posts and other marketing and PR purposes, among others. The image recordings will also be used by the following partners for the aforementioned purpose:
• UnternehmerTUM GmbH
• UnternehmerTUM Projekt GmbH
• UnternehmerTUM Venture Capital Partners GmbH
• UnternehmerTUM MakerSpace GmbH
• Munich Urban Colab GmbH
• UnternehmerTUM Initiative for Industrial Innovators GmbH & Co. KG
• National Agency for New Technologies, Energy and Sustainable Economic Development (ENEA)
• ISBAK Istanbul IT and Smart City Technologies Inc.
• POLIHUB SCARL
• Technical University Munich
• EIT KIC Urban Mobility S.L
• The European Institute of Innovation & Technology
• ZONE Klaszter Nonprofit Kft. Adatvédelmi Nyilatkozat
• EcoMotion
• PowerHUB, z.ú.
• SpinLab Accelerator GmbH
• City of Helsinki
• KTH Royal Institute of Technology
• City of Stockholm
• Aalto Startup Center
• Aalto University
• Universitat Politècnica de Catalunya
• Ajuntament de Barcelona
• CIT UP-CARNET
• CTAG
• Universitat Pompeu Fabra
• Eindhoven University of Technology
• Brainport Development
• City of Amsterdam
• Amsterdam Institute for Advanced Metropolitan Solutions
The legal basis for this is our legitimate interest pursuant to Art. 6 (1) f) GDPR.
8. Deletion / blocking of personal data
We process and store your personal data only for the period of time required to achieve the purpose of storage. If the purpose of storage ceases to apply, the personal data will be routinely blocked or deleted in accordance with the statutory provisions.
9. Your rights
You have the following rights:
• Right of access according to Article 15 GDPR
• Right of rectification under Article 16 of the GDPR
• Right to erasure according to Article 17 GDPR
• Right to restriction of processing under Article 18 of the GDPR
• Right of objection under Article 21 of the GDPR and
• Right to data portability under Article 20 of the GDPR.
The restrictions according to §§ 34 and 35 BDSG (= Germany Data Protection Act) apply to the right of information and the right of deletion. In addition, you have the right to lodge a complaint with a competent data protection supervisory authority (Article 77 GDPR in conjunction with § 19 BDSG).
You can revoke your consent to the processing of personal data at any time. Please note that the revocation is only effective for the future. Processing that took place before the revocation is not affected.
Further information on your personal data can be found here