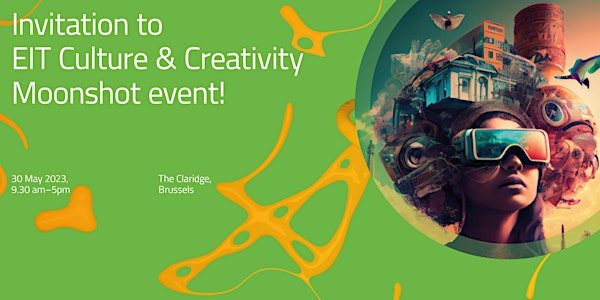 EIT Culture & Creativity Moonshot Event
It is about time we celebrate EIT Culture & Creativity and come together to aim for the moon!
By EIT Culture & Creativity
Date and time
Tue, 30 May 2023 09:30 - 17:00 CEST
Location
Claridge 24 Chaussée de Louvain 1210 Saint-Josse-ten-Noode Belgium
About this event
EIT Culture & Creativity is shooting for the moon!
EIT Culture & Creativity is joining the family of EIT Knowledge and Innovation Communities. It will bring the Cultural and Creative Sectors and Industries (CCSI) into the largest innovation network in Europe. This is the result of decades-long efforts of groups in the policy, industrial, social, and cultural realms, who have made possible the recognition of CCSI as an economic, social, and innovative powerhouse in Europe.
The EIT Culture & Creativity's Moonshot event provides an opportunity to establish a long-term and ambitious shared goal for the competitiveness of European CCSIs and their critical role in the future of Europe.
We have confirmed the participation of relevant representatives from the European Parliament, the European Commission, Member States, regions, and cities. On stage and in the audience, there will also be representatives from the industry, the arts and cultural heritage, academia, research and innovation, and investment organizations.
We would love to have you, too.
More information on the agenda here: https://eit-culture-creativity.eu/category/events/
Agenda
9:30 Open Doors!
10.00 -10.30 3, 2, 1.. Go! Opening address to get us inspired and set the mood for the day ahead.
Nektarios Tavernarakis, Chairman EIT Governing Board.
Daria Tataj, Chairwoman EIT Culture & Creativity Constituting Supervisory Board.
Christian Ehler, Member European Parliament .
10:30-10:35 EIT Culture & Creativity is shooting for the moon! A few words to give a glimpse to the big plans and ambitions.
Bernd Fesel, interim CEO EIT Culture & Creativity
AC Coppens, Host of the Day.
10.35 -11.45 Stars align for European culture and creativity. EIT Culture & Creativity is standing on the shoulders of its advocates, partners, and supporters. In this first panel, our speakers will let us peek into exciting future opportunities and synergies that put CCSI at the centre of European triple transition policies.
Setting the scene: Martin Kern, EIT Director.
Chair: Johanna Leissner, Fraunhofer
Christian Ehler, Member European Parliament
Viviane Hoffman, Deputy Director General DG EAC
Valentina Superti, European Commission: Director in DG GROW
Teresa Riesgo, Secretary General of Innovation of the Spanish Ministry of Science and Innovation.
11.45 -12.00 Culture and creativity are good business! An inspiring talk with few stories, all real cases, demonstrating that culture and creativity can be both good business and good for all. From video games to community-driven social innovations, CCSI ventures generate value worth investing in.
Anette Novak, CEO Swedish Film Institute
12.00 -13.15 Let's talk money. Stars are aligning, and CCSI are now recognized as a major contributor to Europe's economic growth paired with digital, green, and social transformation. What does it take to put our money where our mouth is? This panel will discuss public and private investments in cultural and creative avenues and will examine challenges and opportunities. The biggest risk is not taking one.
Chair: Mehjabeen Patrick, interim CFO EIT Culture & Creativity
Sir Ian Livingstone, Partner Hiro Capital and Games Entrepreneur.
Michel Verstraeten, Head of Business Banking, Triodos Bank.
David González Martín, Head of Sustainable Finance and Advisory Activities at European Investment Fund (EIF).
Francesca Bria, President of the Italian National Innovation Fund.
13.15-14.30 Lunch buffet in the mezzanine
14.30 -14.45 Love you to the moon and back. EIT Culture & Creativity will share some of its love stories! Stories of collaboration with public and private organisations with whom we are partnering for the benefit of CCSI and the Triple Transitions.
AC Coppens, Host of the Day
14.45 - 16.00 At least one foot on the ground. We are ambitious and bold, but our heads are in the right place. Regions and cities hold the keys for building a robust, pervasive, and fit-for-purpose support system for CCSIs to thrive, and to drive the triple transitions. This panel discussion will discuss where we are and what is the way forward.
Chair: Pier Luigi Sacco, University of Chieti-Pescara.
Marcel Gibóda, Deputy Major City of Kosice, Slovakia.
Karen Nielsen, Deputy Head of the Department of Arts and Culture, Region Provence Alpes Cote d'Azur, France
Daniela Ferrara, Head of Community and National Funds Sector, Emilia-Romagna Region, Italy.
16.00-16.40 The moon on a stick. As we wrap up the day, it is time to review what our audience has been up to in the past couple of hours. In this session will give a look to results of the online polls and the questions posted. We will interact with the audience and the microphone will roll. We might not have all the answers yet, but we will take them home. What's on your mind? Are you in or out?
AC Coppens, Host of the Day
Patricia Castillo, interim Chief Communication and Engagement Officer EIT Culture & Creativity
16.40-17.00 Let's wrap it up! What a day! We have learned, we have progressed, we have committed. But our interim CEO will not let us go without a piece of his mind, and a warm thank you for being there.
Bernd Fesel, interim CEO EIT Culture & Creativity