Dieses Event ist beendet.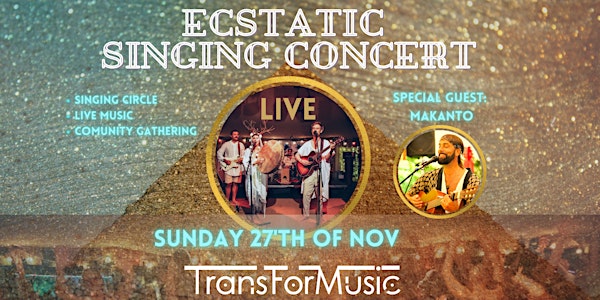 Ecstatic Singing Concert - With TransForMusic & MAKANTO
Live Music, Singing Circle, Community Gathering
Zeit und Ort
Veranstaltungsort
Life Artists Creators Hub Milastraße 4 10437 Berlin Germany
Karte und Wegbeschreibung
Rückerstattungsrichtlinie
Kontaktieren Sie den Veranstalter, um eine Rückerstattung anzufordern.
Zu diesem Event
>> ECSTATIC SINGING CONCERT <<
>>Monthly Event In Berlin<<
We will gather in a magical circle to connect from the heart, sing, pray and spend a beautiful time as a community, and celebrate LIFE!
We will nourish our bodies and spirits with delicious soul food - Music & Dance, in a cozy and protected space where we can dive deep into our inner journey, as well as a community gathering. We will open our hearts, connect to the present moment, and ENJOY the experience of opening our voices and singing together.
This event is part of a regular monthly-based Ecstatic singing concert series that aims to support the community in the amazing shift that we are going through.
Ayam is sharing her own beloved soul songs and will be guiding us through a vocal journey accompanied by a live band.
Special guest:
MAKANTO will bring us some of his own compositions and heart songs and will guide us to sing together.
: : : : : : : : : : : : : : : : : : : : : : : : : : : : : : : : : : : : : : : : : : : : : : : : : : : : : : : : :
~ *~ FLOW ~*~
\\~ 18:30 - Arriving at the space (doors are closing at 19:00).
\\~19:00 - Opening circle
\\~19:30 - Ecstatic Singing concert with Ayam & Friends
\\~21: 30 -Closing Circle
LOCATION: Life Artist creators hub, Milastr. 4, Berlin
Tickets: Please reserve a ticket by sending an email with a full name, and address to: TransForMusic@posteo.de
Normal: 27€
Early bird: (Till 16.11) 22€
Support: 28-38€
Reduced: 20€ (Students, Jobless, please bring proof)
** If you wish for an early bird ticket, support, or reduced ticket you can book it here with pre-registration by sending an email: https://www.paypal.com/paypalme/transformusic
Save your spot, Tickets are limited!
Looking forward to seeing you,
LIEBE: : AHAVA: : AMORE
TransForMusic project ❤ ❤ ❤
WHO WE ARE
The collaboration between ChrisTala (Germany) and Ayam (Israel) has evolved into a mission to use music as a tool to awaken and expand the human consciousness.
Her Israeli upbringing and his roots in Germany are blending their
diverse ethnic and emotional identities into a cosmopolitan co-creation,
evoking our ancient and modern sensibilities. The confronting flavor
and language of their music is allowing for a deeper exploration of the
human condition. Their melodic compositions are melting Ayam's
quirky, emotive voice and ChrisTala's grooves. They merge ancient
instruments like shamanic drums and monochord, with Rock and Soul
elements, engaging their listeners on a primal and spiritual level. With
their fresh atmospheric blend of influences, hypnotic ethnic sounds,
dreamy non-standard harmonies, and vulnerable vocals they enchant a
growing audience around the world. With their 2021 debut album
In "Shards of Light" Ayam and ChrisTala draw a brutally honest portrait of
an inner world, as mysterious as mundane, where shadows and hope,
lucidity and insanity dance magically together.
''Our common vision is to create a movement of change that aims to connect and open human hearts and minds, while holding space for transformative processes.
We are in a time that carries the potential of awakening into self-love, caring for one another, and caring for the universe we live in, and we wish to create awareness of these topics through our music.''
https://open.spotify.com/artist/4inJDo0ATHIvYEU30VIXN8...
What people say...
my experience with TransForMusic - an epic journey through soundscapes that touched my soul and heart body and mind.
Your Music guided me through places I was longing for - rainforests, waterfalls, forgotten times when life was lush, and laughter. my higher self was ever-present and dreaming myself into the light. Joy was rising flowing with laughter and gratitude. Ayam's voice, so deeply connected to spirit, is like an angel, divine and pure. Chris added such beautiful instrumentals. Eye loved how visual their music felt to me.
TransForMusic is a beautiful space to experience and grow on many levels, I feel I have the freedom of choice where my soul wants to travel me.
- Nelle
An extraordinary evening with extraordinary artists. The audience helped create the entire evening with movement, singing, and a jointly created sphere of energy. We were included in the music and encouraged to sing together. It was a wonderful experience, and for some people, it was also a challenge. I love your album Shards of Light and have been listening to it on a loop. 💫 Thank you
- Yana Christa
From the moment we enter the room, Ayam and ChrisTala take us into another dimension. The sounds of their many instruments create a magic portal and their voices beckon us through. Ayam opens the ceremony with loving gestures and words. She encourages us to feel the moment, move our bodies and find our intention. After the energetic ritual, I feel alive and well. I settle in to listen to the wonderful songs from the Transformusic experience. Soon we are all singing along with Ayam as she lovingly encourages us... it is pure magic. The emotions are stirred up in us and there is laughter and also some tears... healing evokes many emotions. Finally, the circle is closed and quiet conversations with old and new friends are held in the lingering intimate atmosphere. I am very much looking forward to the next event.
- Adam