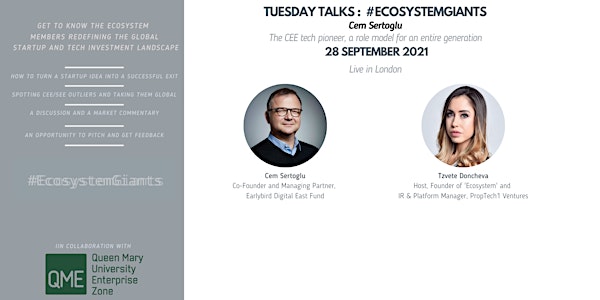 #EcosystemGiants with Cem Sertoglu
#EcosystemGiants' are an opportunity to learn from and connect with the ecosystem members, redefining the tech investment landscape.
About this event
An 'Ecosystem' event by Tzvete Doncheva
The #EcosystemGiants series highlight the ecosystem members who redefine the tech investment and start-up landscape. They are sessions of practical, actionable advice to entrepreneurs and operators. The amazing guests share their 'secrets' to success, offer insights and commentary on the market.
Now, for the first time since its creation in 2020, an opportunity to join for a live initiative and physically meet one of the absolute leaders in early stage venture in Europe, who led the seed round at the company that became the largest software IPO, out of the continent to be listed on NYSE.
Join us in London, in a special venue in East London (closest station: Whitechapel)
Please note this event won't be streamed.
Timings (BST)
Arrival from 16.30
17:00 Start; in conversation with Cem Sertoglu (Co-Founder and Managing Partner, Digital East Fund, Earlybird Venture Capital)
17:30 Market commentary and Q&A
17:45 Pitching for feedback, Hristian Nedyalkov (Co-Founder and CEO, Novus) will share his vision for building UK's impact banking app that turns every payment made into a force for good
17:55 Chat ends
About
Cem Sertoglu is an entrepreneur and venture capital investor, focused on technology ventures in Emerging Europe since 2006. He is currently a Partner at Earlybird Digital East Fund, whose portfolio includes UiPath, Hazelcast, Peak Games, YemekSepeti, Vivense, FintechOS, and Payhawk.Previously, Cem was the Founder & CEO of SelectMinds (now a part of Oracle) in New in York. Cem holds a BA in Economics from The University of Texas at Austin.
Tzvete is the founder of the 'Ecosystem' project, that aims to help tackle the issue of closed networks in venture. Its goal is to help very early stage founders access pre-seed capital through a newsletter and online initiatives. In her day-to-day role, she is the IR and Platform Manager at PropTech1 Ventures, a venture capital fund focused on Prop/ConTech. Tzvete is a firm advocate for bridging the gender gap in venture capital and technology, is a mentor to female founders; and a non-exec trustee at Girls in Charge.
*Spaces are limited.
#EcosystemGiants is part of the 'Ecosystem' Project, helping to democratise access to venture for founders and junior VCs of 'less obvious' backgrounds through a newsletter and online initiatives.
In collaboration with Queen Mary University Enterprise Zone (QME), an innovation hub in East London, offering flexible, modern workspace for start-ups, with particular focus on Digital Health, MedTech and AI.
Community partners: Kaiku, ParlayMe, Startups Magazine