Description
The East-West Crypto Conference (www.ewcc.io) will take place on October 22 and 23 and aims at building the bridge between the two largest blockchain ecosystems - Asia and Europe. Speakers include representatives from 5 out of the 20 cryptocurrencies with the highest market capitalization and 3 of the architects of the blockchain-friendly regulatory framework of Malta (Malta Blockchain Taskforce). The conference is organized, among others, by the Frankfurt School Blockchain Center and DLT Capital and addresses the latest technology developments, the different ecosystems, investment trends and regulatory frameworks in both realms.
At the East-West Crypto Conference best practices, current knowledge and the latest technological trends of already funded businesses in Asian and European markets and on local regulatory aspects will be showcased. It will not necessarily focus on ICO projects or early-stage startups. A detailed overview of our conference can also be found on our website: www.ewcc.io.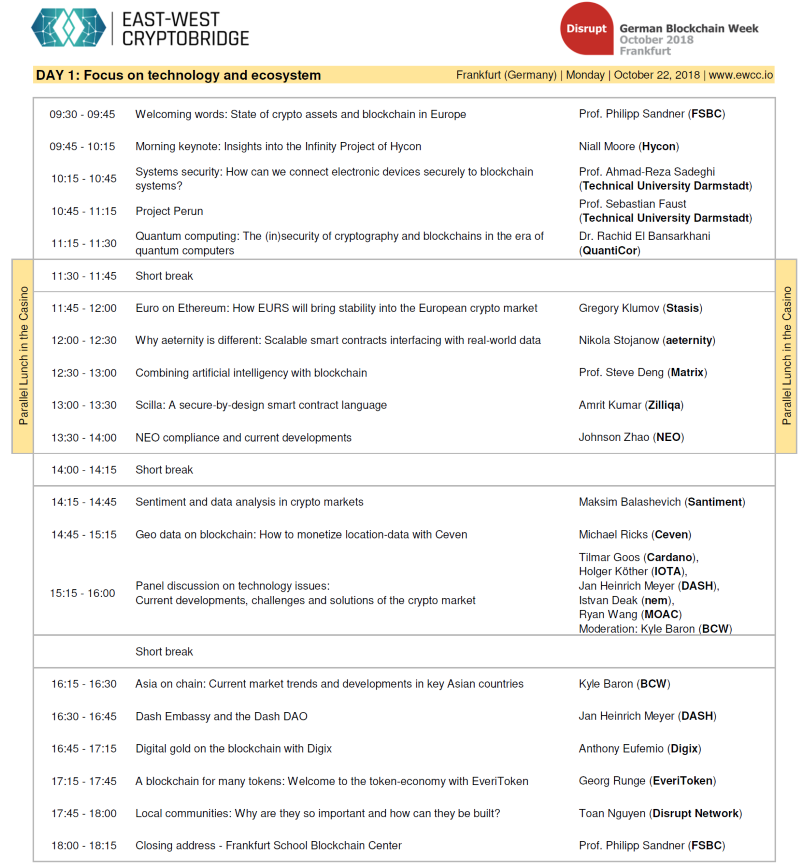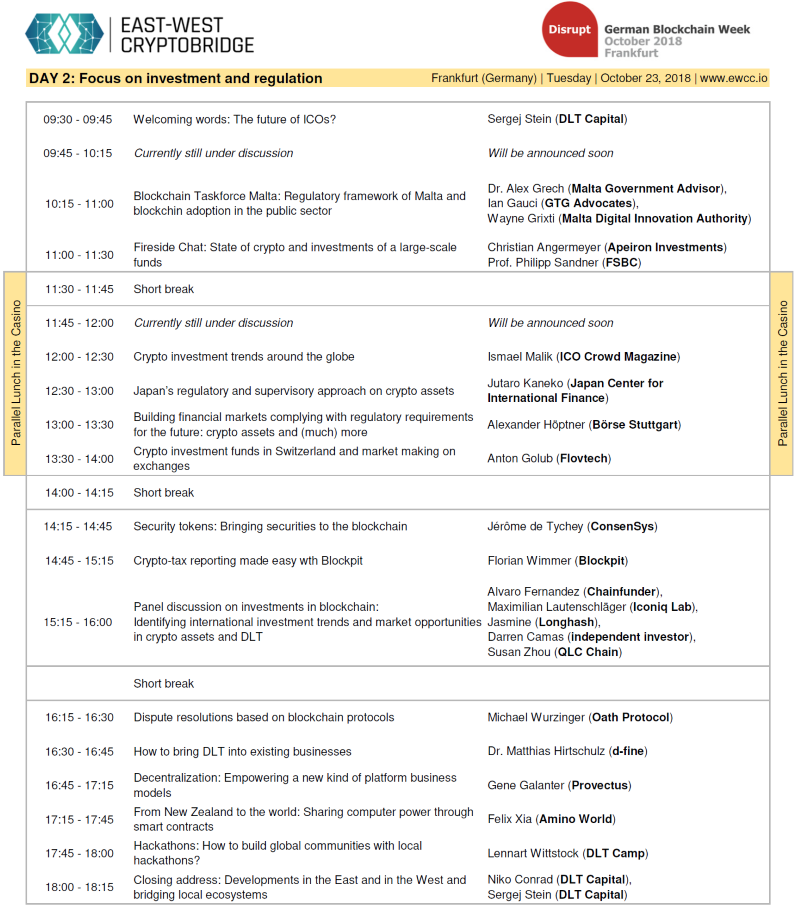 Location and Date
Location: Frankfurt School of Finance & Management
Date: Monday and Tuesday, October 22 & 23, 2018 from 09:00h to 18:00h
Language: English
Tickets and Registration

Registration via Eventbrite is required; Participants who might not want to pay via credit card on Eventbrite can contact us; this way we will provide an invoice which would then be paid, e.g. via bank transfer.
Agenda
The East-West Crypto Conference will take place at the Frankfurt School of Finance & Management on October 22 & 23, 2018 from 09:00h to 18:00h. For more information visit: www.ewcc.io.
The event will include talks by top-notch speakers of crypto startups, academics and regulatory authorities that are active in the field of blockchain. The aim is to foster the cooperation and exchange of best practices between the European and Asian blockchain ecosystem and to gain knowledge about the regulatory environment in the respective areas. There will also be space for networking among the participants to complete a very intense and vibrant event.
The event will cover four different areas: technological novelties, investment opportunities, regulatory issues and introductions into the European and Asian Ecosystems.
Technological advances in consensus mechanisms and DLT

Regulatory novelties and -strategies in specific countries

Investment strategies of selected crypto funds
Selected speakers for example:
Tilmar Goos (Cardano Foundation)

Holger Köther (IOTA Foundation)

Johnson Zhao (NEO)

Jan Heinrich Mayer (DASH Embassy)

Istvan Deak (Nem)

Niall Moore (Hycon)

Dr. Ian Gauci (gtg Advocates)

Wayne Grixti (mita)

Dr. Alexander Grech (Commonwealth Centre for Connected Learning)

Ismael Malik (ICO Crowd Magazine)

Amrit Kumar (Zilliqa)

Nikola Stojanow (Aeternity)

Anthony Eufemio (Digix)

Prof. Steve Deng (Matrix)

Kyle Baron (BCW)

... and many more
For more information visit: www.ewcc.io

Who should participate?
This conference is ideal for anyone looking to establish and foster relationships with high-profile entrepreneurs, and speakers, as well as investors who are actively looking for investment opportunities in some of Europe's and Asia's hottest crypto-startups
Startup founders and startup enthusiasts in Europe and Asia interested in blockchain technology

Investors in Europe and Asia in innovative technology, venture capitalists, and blockchain investors

Regulators that want to get in touch with the Asian and European Crypto Scene

Corporates in Europe and Asia interested in innovation and blockchain

Companies providing services to startups in the blockchain field
Contact
Frankfurt School Blockchain Center
E-Mail: team@fs-blockchain.de
Phone: +49 69 154 008-790
Website FSBC: www.fs-blockchain.de
Website conference: www.ewcc.io
About the Frankfurt School Blockchain Center
The Frankfurt School Blockchain Center is a think tank and research center which investigates the implications of blockchain technology for companies and their business models. Apart from the development of prototypes, it serves as a platform for managers, startups, technology and industry experts to share knowledge and best practices. The Blockchain Center also provides new research impulses and develops training for students and executives. It focuses on banking, mobility, "Industry 4.0" and the energy sector.
Further information can be found on the Website, on Facebook, or via Twitter.
About DLT Capital
A strong network of blockchain experts, companies, investors, lawyers, mentors and coaches help your business to grow fast and sustainable. DLT Capital is the partner throughout the whole process of raising capital and connects you to the right institutions and players.
Further information can be found on the Website, on Linkedin, or via twitter