EarthEngine@SG connects Earth Engine users from academia, industry, public sector and non-governmental organisations in Singapore & beyond!
About this event
Google Earth Engine (EE) is a powerful cloud-based platform used to process remotely sensed satellite imagery and conduct large-scale land cover mapping on-the-fly. The applications of EE are numerous and cover a range of topics such as urban expansion, deforestation, and mapping of hazards, just to name a few. The user community in Singapore has grown over time and we would like to bring the community together through a one-day virtual symposium.
We are excited to host EarthEngine@SG during the SG Geospatial Festival and allow this event to be a platform for connecting with users of EE from academia, industry as well as public sectors and non-governmental organisations.
The one-day virtual event includes a keynote talk, parallel talks on different topics, a networking breakout session and hands-on EE workshops.
This would be followed up by another event in March 2022, which is tentatively scheduled to be an in-person event. We would offer the opportunity to users to present lightning talks about their work using EE as well as networking opportunities for future collaborations among participants.
Co-located with the Singapore Geospatial Festival 2021
Program
Keynote Presentation (11am to 12pm, UTC+8)
Short Break (12pm to 12.10pm)
Parallel Talks (12.10pm to 1pm)
Keiko Nomura - Fate of forests at your fingertips - power of Google Cloud Platform in detecting visibly similar crop types and remaining forests
Nicholas Murray - Losses and gains of Earth's intertidal ecosystems
Jakrapong Tawala - Google Earth Engine for the United Nations humanitarian assistance mission
Mong Suan Yee - Machine Learning with Google Earth Engine
Lunch Break (1pm - 2pm)
Breakout Session (2pm to 2.45pm)
Participants can network and meet one another in themed rooms
Short Break (2.45pm to 3pm)
Workshops (3pm onward)
Minerva Singh - Introduction to Earth Engine (beginner)
Keiko Nomura - Earth Engine tips and tricks (intermediate)
Yvonne Fong - Google Earth Engine Apps (intermediate to advanced)
The workshops will end at different times.
Speakers
Nicholas Clinton
Developer Advocate at Google
Nick Clinton is on the Google Earth Engine developer relations team. He received a bachelors, masters and PhD from the department of Environmental Science, Policy and Management at UC Berkeley. From 2008-2011, Nick worked in the Airborne Sensor Facility of NASA Ames Research Center, producing science quality calibrated imagery and supporting sensor maintenance for thermal, multispectral and hyperspectral imagers. From 2012-2015, he was on the faculty of the Center for Earth System Science at Tsinghua University, in Beijing, China. He joined Google in 2015. His research interests include machine learning on geospatial imagery, information extraction from spaceborne and airborne sensors, statistical modeling of Earth surface processes.
Yvonne Fong
Data Scientist at EO Data Science
Yvonne Fong is a Data Scientist at EO Data Science helping clients to operationalise Google Earth Engine for their business or project. She is passionate about leveraging satellite data to gain insights and drive positive environmental and social change.
Keiko Nomura
Director of Product Development at Climate Engine
I am the Director of Product Development at Climate Engine. I am also an early adopter of Earth Engine, which I used extensively for my PhD research. Previously I worked for Space Intelligence in Scotland, and UNDP and UNEP on REDD+ (Reducing Emissions from Deforestation and Forest Degradation in Developing Countries) in Southeast Asia. Driven by the urgent need for better data, I left the UN and spent three years in research and developed methodologies to detect forest loss and identify drivers of deforestation with high accuracy and at low costs. I continue to be fascinated by data and what they can tell us!
Nicholas Murray
Senior Research Fellow and ARC DECRA Fellow. College of Science and Engineering, James Cook University.
Dr. Nick Murray has recently moved to James Cook University, and is a senior research fellow and ARC DECRA Fellow in the College of Science and Engineering in Townsville. Nick's research spans the fields of remote sensing, conservation biology and ecology, and tends to use spatial models to investigate the dynamics and status of coastal and terrestrial ecosystems. Nick's work has been recognized by several awards, including the 2016 IUCN Commission on Ecosystem Management emerging scientist award, Australia's nomination for the APEC Science Prize for Innovation, Research and Education, and the 2015 Eureka Prize for Environmental Research as part of the IUCN Red List of Ecosystems science team.
Minerva Singh
Research Fellow, Imperial College London
I joined the Center for Environmental Policy (CEP), Imperial College London as a Research Fellow in 2018. Before that, I completed a PhD from the University of Cambridge in 2017 where I focussed on implementing data science techniques for quantifying the impact of forest loss on tropical ecosystems. I hold an MPhil (School of Geography and Environment) and an MSc (Department of Engineering) from Oxford University. I have nearly 10 year's experience in conducting academic research at the interface of tropical ecology, data science, earth observation (EO) and artificial intelligence (AI)and published 14 first author peer-reviewed papers in international journals since 2013 including PLoS One. I have obtained research funding of approximately £275,000 since 2018 and provided research, consultancy and data science support to startups and industry partners including Treeconomy and Morphobotics LLC. I am a Fellow of the Royal Geographic Society (RGS)and Royal Statistical Society (RSS) as well as serving as an Associate Fellow at the Data Science Institute, Imperial College London. I am also a best selling course-instructor on the online MOOC platform Udemy where I provide online teaching to more than 71,000 students from across the world on machine learning, earth observation and deep learning related topics
Jakrapong Tawala
Satellite Analyst at United Nations Satellite Centre (UNOSAT)
Jakrapong Tawala is a satellite analyst of UNOSAT rapid mapping team with over ten years of experience of geospatial application and international cooperation. He is currently working as the senior satellite analyst in the rapid mapping team of United Nations Satellite Centre (UNOSAT) Asia Pacific office in Bangkok. He holds a master's degree in space technology application from Beihang University, China since 2012 under the MASTA scholarship of Asia-Pacific Space Cooperation Organization. Some of his notable fields of expertise are geographic information system, remote sensing, climate change monitoring, big-data analytics, rapid damage assessment, science communication.
Mong Suan Yee
Director of Engineering at Kumi Analytics
Mong Suan is the Director of Engineering with Kumi Analytics and is the technical lead with 20 years of experience in research, product development and technology management. She has led engineering teams in telecommunications hardware development, crypto financial exchange and was the CTO at Bloyalty and Sensmaster. She has a PhD in Wireless Communications and Applications of Neural Networks from Southampton University.
Parallel Talk Abstracts
Fate of forests at your fingertips - power of Google Cloud Platform in detecting visibly similar crop types and remaining forests (Keiko Nomura)
Let's empower conservation by talking about how to find remaining forests, instead of measuring how much we've lost. Land use change in the tropics is complex, consisting of small-scale deforestation and small patches of intact forests, recovering forests, tree crops, agroforestry, pasture, and crops all exist in close proximity. Using big data and machine learning techniques via Earth Engine powered by Google Cloud Platform, this challenging task can be done with high accuracy. I will demonstrate using a case study in Southern Myanmar (Nomura & Mitchard, 2018; Nomura et al., 2019), covering oil palm, rubber, betel nut plantations and forests. My talk includes the use of bands and indices from Sentinel-1 & Sentinel-2 and their high temporal resolutions, which provides crucial information on the trajectory of land use change and drivers of deforestation. I will also briefly talk about a company I just joined in August, called Climate Engine, a scientist-led company that works with Google to accelerate and scale the use of Earth Engine's geospatial capabilities in support of climate action.
Losses and gains of Earth's intertidal ecosystems (Nick Murray)
Losses of intertidal ecosystems such as mangroves, saltmarsh and tidal flats, are the widely reported result of intensifying human pressure and the growing impact of climate change on coastal regions around the world. In many cases, losses of coastal ecosystems have outpaced losses of adjacent terrestrial ecosystems, including tropical forests. However, intertidal ecosystems are known to have the capacity to rapidly respond to environmental change, gaining extent by means of migration, elevation gain and redistribution. Although many studies have suggested these processes as potential drivers of coastal resilience, little is known about the extent to which gains in intertidal ecosystem extent have counterbalanced known losses. In this seminar I will introduce the Global Intertidal Change project, which addresses this knowledge gap empirically with a global, high-resolution remote-sensing analysis of the distribution and change of Earth's three main intertidal ecosystems since 1999. The dataset suggests that extensive losses of intertidal ecosystems have been partially offset by co-located gains, and establishes a system for monitoring the ongoing responses of intertidal ecosystems to elevating pressures along the world's coastlines.
Google Earth Engine for the United Nations humanitarian assistance mission (Jakrapong Tawala)
UNOSAT is the United Nations Satellite Centre hosted at the United Nations Institute for Training and Research (UNITAR), with the mission to promote evidence-based decision making for peace, security and resilience using geo-spatial information technologies.
UNOSAT supports the UN agencies and Member States with satellite imagery analysis, and provide training and capacity development in the use of geospatial information technologies. By delivering integrated satellite-based solutions for human security, peace and socio-economic development.
Since 2003, UNOSAT has established a rapid mapping provides satellite image analysis during humanitarian emergencies, both natural disasters and conflict-situations for the international humanitarian community and the UN Member States.
Typical situations for which UNOSAT Rapid Mapping is activated include floods, earthquakes, storms, landslides, volcanoes, oil spills, chemical waste, refugee and Internally Displaced Person (IDP) camp mapping, conflict damage assessment and situation analysis.
Google Earth Engine has been applied to serve the UNOSAT rapid mapping service as it provides quick access to various pre-processed satellite imagery and geospatial datasets with planetary-scale analysis capabilities and makes it available for a rapid assessment of the disaster situation anywhere around the world which is meet with the United Nations humanitarian assistance mission.
In my presentation will include the content of the UNOSAT introduction, International Humanitarian Framework, and Google Earth Engine application for rapid assessment of floods utilized in UNOSAT. It will give you a clear image of how satellite imagery transforms into real action for humanitarian assistance.
Machine Learning with Google Earth Engine (Mong Suan Yee)
Abstract pending
Workshop Abstracts
Introduction to Earth Engine (Minerva Singh)
Level: beginner
Earth Engine tips and tricks! (Keiko Nomura)
Level: intermediate
Google Earth Engine is a powerful cloud computing platform for exploring and analysing various geospatial phenomena occuring on Earth. It is a free and accessible tool for anyone who wishes to use it to learn about our changing planet right at their fingertips. But beginners might find learning Earth Engine's computing language too daunting to get them started or find themselves stuck on a task while learning how to code. In this short workshop, I will teach a few tips and tricks—based on the popular and useful videos I've shared on Twitter—about how to utilise Earth Engine from loading satellite data to implementing basic geospatial analytics that will encourage users and easily get themselves started on using the platform.
Google Earth Engine Apps (Yvonne Fong)
Level: intermediate to advanced
This workshop will cover the basics of designing, building, and publishing Earth Engine Apps. Earth Engine Apps are a great way to share code and outputs using a consolidated app interface. With Apps, experts can use simple user interface elements to leverage Earth Engine's data catalogue and analytical power, for experts and non-experts alike to use. Participants should have a basic understanding of how to use Earth Engine and JavaScript.
Organizing Team
Janice Lee (Lead Organizer)
Assistant Professor at the Asian School of the Environment, Earth Observatory of Singapore, Nanyang Technological University of Singapore
I am a land system scientist and I study the socio-ecological drivers, mechanisms and effects of land-use and land-cover change in the tropics. I lead the Coupled Human and Natural Systems Lab where we combine geospatial data with on the ground social and ecological field surveys. My current research interests include sustainability of the palm oil sector, tropical peatland management and restoration, agricultural impacts from natural hazards, and biodiversity and livelihood outcomes from deforestation for agriculture commodities.
Jose Don T. De Alban
Research Associate at Centre for Nature-based Climate Solutions, Department of Biological Sciences, National University of Singapore
Don is a geographer and engineer who is interested in understanding land change to address sustainability issues in Southeast Asia. He has more than 20 years of experience in applying remote sensing and geospatial technologies in land change science, forest conservation, spatial land use planning, and protected area management. He is a current member of the Global Land Programme and the Biodiversity Conservation Society of the Philippines, and a science team member of the ALOS Kyoto & Carbon Initiative.
Sheryl Rose Reyes
Assistant Research Scientist at Manila Observatory, President at International Society for Photogrammetry and Remote Sensing Student Consortium (ISPRS SC)
Sheryl Rose C. Reyes received the M.Sc. degree in remote sensing and the B.Sc. degree in geodetic engineering from the University of the Philippines, Diliman in 2013 and 2008, respectively. Previously, she was a Project Officer of the Conservation Geomatics Team of Fauna & Flora International Philippines from May 2014 to December 2015; Senior Lecturer I at the Department of Geodetic Engineering, University of the Philippines, Diliman from 2013 to 2016; and Assistant Professor Lecturer 2 at the De La Salle University, Manila from June to August 2016. She also worked as a national GIS consultant for the Asian Development Bank in 2016 working on the real-time evaluation of the institution's safeguards implementation experience. She was also one of the lead authors for the Global Environment Outlook 6 for Youth (GEO-6 for Youth) report, which was the first fully interactive e-publication of the United Nation's Environment Programme (UNEP), written by youth for youth to inform, engage, educate, and lead youth towards environmental action. In addition to her academic interests, she is also the current President of the International Society for Photogrammetry and Remote Sensing Student Consortium (ISPRS SC), the representation of the youth and students in ISPRS. She is currently pursuing a doctorate degree in sustainability science at the United Nations University – Institute for the Advanced Study of Sustainability in Tokyo, Japan. Her research interests include the demand and supply of ecosystem services, land cover change modelling, GIS and remote sensing. She is also an Assistant Research Scientist at the Geomatics for Environment and Development Laboratory of the Manila Observatory in the Philippines.
Sabrina Szeto
Geospatial Consultant at Sabrina Szeto Consulting, Executive Board Member at Women in Geospatial+
Sabrina Szeto is a geospatial consultant who empowers organizations to use geospatial data and technology. She is a developer on the Google Earth Engine platform and has presented lightning talks at two Google conferences. Since 2019, she has hosted the #EarthEngineVirtualMeetup for the user community to share their work. Sabrina has a masters in Forestry from Yale University and a bachelors in Anthropology from Princeton University. She also volunteers as an executive board member with Women in Geospatial+ and is currently based near Munich, Germany.
Minerva Singh
Research Fellow, Imperial College London
I joined the Center for Environmental Policy (CEP), Imperial College London as a Research Fellow in 2018. Before that, I completed a PhD from the University of Cambridge in 2017 where I focussed on implementing data science techniques for quantifying the impact of forest loss on tropical ecosystems. I hold an MPhil (School of Geography and Environment) and an MSc (Department of Engineering) from Oxford University. I have nearly 10 year's experience in conducting academic research at the interface of tropical ecology, data science, earth observation (EO) and artificial intelligence (AI)and published 14 first author peer-reviewed papers in international journals since 2013 including PLoS One. I have obtained research funding of approximately £275,000 since 2018 and provided research, consultancy and data science support to startups and industry partners including Treeconomy and Morphobotics LLC. I am a Fellow of the Royal Geographic Society (RGS)and Royal Statistical Society (RSS) as well as serving as an Associate Fellow at the Data Science Institute, Imperial College London. I am also a best selling course-instructor on the online MOOC platform Udemy where I provide online teaching to more than 71,000 students from across the world on machine learning, earth observation and deep learning related topics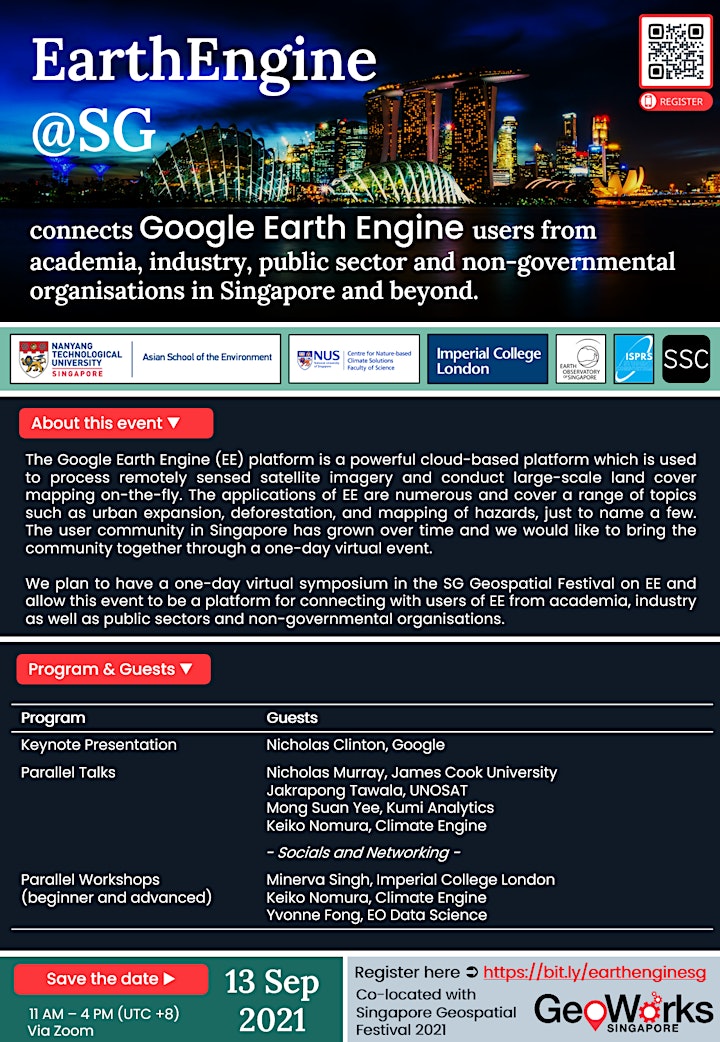 Organizer of EarthEngine@SG