Dieses Event ist beendet.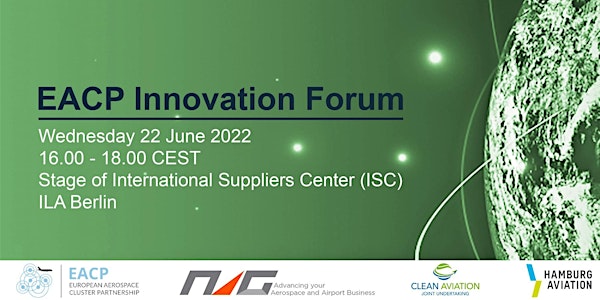 EACP Sustainable Innovation Forum Reception
Please join us for an exclusive network reception after the Sustainable Innovation Forum to get in touch with EACP!
Von European Aerospace Cluster Partnership (EACP)
Datum und Uhrzeit
Beginn am Mi., 22. Juni 2022 18:00 (CEST)
Veranstaltungsort
ILA Berlin Messestraße 1 12529 Schönefeld Germany
Zu diesem Event
After our panel discussion we would like to meet you at our exclusive EACP network reception right next to the stage of the ISC.
There you can meet clusters, speakers and our partners from all over the world!
We will provide you with catering and drinks.
Let's get in touch after 2 years of virtual events!
Über den Veranstalter
In 2009 the EACP was founded within the framework of CLUNET, a PRO INNO EUROPE project, which encouraged the exchange of experiences and supported the implantation of concrete pilot projects regarding cluster innovation and development policies. Since then, the EACP has further developed into a permanent partnership of aerospace clusters among Europe. In 2013, the European Commission recognized the EACP as one of thirteen "European Strategic Cluster Partnerships." After 10 years of existence, EACP currently constitutes a network of 43 aerospace clusters from 17 European countries, thus largely covering the entire aerospace value chain in Europe.