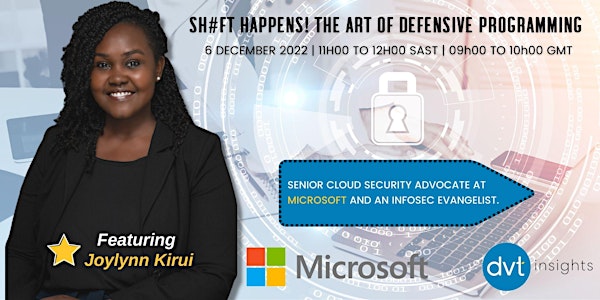 DVT Tech Insights: SH#FT Happens! The art of defensive programming
SH#FT Happens! The art of defensive programming.
About this event
Join Joylynn Kirui, an infosec evangelist and Senior Cloud Security Advocate from Microsoft, at our next DVT Tech Insights Webinar.
"With every commit, the threat landscape increases. One single vulnerability is all a hacker needs. Vulnerabilities have multiple sources, and you must have a plan for securing each potential risk vector and identify vulnerabilities early. The later they are identified, the more expensive and dangerous remediation is."
In this session, we will cover how you can shift security left practically from your IDE to the cloud by integrating application security testing extensions in your IDE, code scanning, secret scanning, dependency review and how you can connect your GitHub repository to Microsoft Defender for Cloud and leverage Cloud Security Posture Management (CSPM) and Cloud Workload Protection features. We cover how Defender for DevOps analyzes the GitHub repository for security issues.
ABOUT THE SPEAKER
Joylynn Kirui is an infosec evangelist who believes in empowering developers and users in general on security best practices. She is an ethical hacker with offensive security experience in web and mobile app security testing, DevSecOps and GSM security, having previously worked in the Telco industry. She has a passion for mentorship and training students and empowering them. She has spoken at several conferences where she shares her cyber security and software development knowledge.
She is among the Top 50 Women in Cyber Security Africa 2020 finalists, Woman Hacker of the year Africa 2020 finalists and Young CISO Vanguard 2022, among others.
She is a Senior Cloud Security Advocate at Microsoft. She focuses on DevSecOps on GitHub and Azure, which includes application security.
Social media handles:
Twitter: @joylynn_kirui
Connect with Joylynn on LinkedIn.