Eventinformationen
Veranstaltungsort
DB mindbox Berlin
Holzmarktstraße 6-9
inside S-Jannowitzbrücke left side of Backwerk
Berlin, Berlin 10179
Beschreibung
Data Science for Social Good Berlin is back with our third Datathon! It will take place on April 20 - 22 at DB mindbox Berlin.
For our last Datathon in March 2017 more than fourty data scientists joined us for a weekend of solving challenging data problems together with our non-profit partners Deutsche Krebsgesellschaft and SchulePLUS. You can read more about the event here.
This time we are partnering with Berliner Tafel to help investigate the links between public relations and donations and with Borderstep to help to automate and therewith to professionalize the data analysis of the Green Economy Monitor (GEMO). Learn more about our partners in a moment!
You can find out more about DSSG Berlin at http://dssg-berlin.org or contact contact@dssg-berlin.org for questions.
What is a Datathon?
A Datathon is an event that partners up curious, clever, quantitative data people (that's you!) with curious, clever, empathetic non profit people (you'll love them!) to take a stab at real analytical challenges that our partner non-profit organizations are facing. Over the weekend you'll have a chance to step away from your regular problem sets, contribute to a good cause, and meet other socially minded problem solvers.
Who should sign up?
For the challenges our nonprofit partners are facing the following skills would be especially useful:
Berliner Tafel: time series analysis, NLP, data visualization

Borderstep: web scraping, NLP, document classification
However, please don't hesitate to register even if you are not experienced in these areas. As long as you are eager to pick up new skills and work together with others on the challenges, we would love to have you there! We are a diverse and inclusive group. Please come, no matter your race, gender and sexual orientation. We support the http://berlincodeofconduct.org.
A note on tickets:
If you are participating "hands-on" during the entire weekend, please choose the "data diver" ticket option. This also includes access to the final presentations. You do not need to choose an additional ticket.
If you only wish to join us for the final presentations, please choose the "final presentations only" ticket option.
What do I need to dive?
Bring your own computer and any software that you might need! We provide the data, internet access, power, Git repositories, Wikis, AWS credits, etc.
Who's involved?

The Berliner Tafel collects excess, but still impeccable food in shops, and distributes it to social institutions. The goal is to save food and support the needy. In the distribution points of "Laib und Seele" people with little money can get food once a week for 1-2 Euro. In addition, the Berliner Tafel is involved in the KIMBA project to teach children and young people the value of food and healthy nutrition through cooking and eating together. Financing is exclusively achieved via donations and state funds are deliberately avoided. There are e.g. Opportunities for a one-time donation (for example via the website), for the donation of pawns, for a monthly donation via a membership, as well as through "celebrity donations" in quiz shows or through legacies.
The media often reports on the Berliner Tafel, in newspaper articles, radio interviews or television programs. It has happened several times that individual media reports have led to a noticeable increase in donations. In order to make best use of their scarce resources and to receive enough donations, the Berliner Tafel would like to find out more about the connections between public relations and donations. You will help to create that link.

Borderstep is an independent and non-profit research center. They work mostly in the fields of innovation and sustainability and focus on the development of solutions and strategies for sustainable economic activities.
One Borderstep project is the Green Economy Monitor (GEMO). The GEMO provides important data on start-up activities in the green economy as a basis for information and decision-making both for politics and for innovation and start-up funding agencies, as well as for founders and start-up self-interested. The GEMO has been developed with public funding and so far four Times raised (GEMO 2013, 2014, 2015, 2017). Due to its relevance for green start-up support in Germany, Borderstep would like to receive the GEMO as a regular monitor even without basic financial support. However, the process of data analysis is currently characterized by high manual effort, which causes high costs and binds many resources.
You will help to automate and therewith to professionalize the data analysis of the GEMO.
Schedule
Friday, April 20th
19:00 - 19:30 Check-In

19:30 NPO Introductions

20:30 Mixer
On Friday night you'll be introduced to the participating NPOs, learn about what they are doing and the problem they are facing. Afterwards you can mix and mingle to chat about the projects and maybe already find people you want to work with over the weekend.
Saturday, April 21st

09:00 Registration & breakfast
10:00 Intro

13:00 Lunch break

19:00 Evening snack

22:00 Doors close
On Saturday you'll chose projects you want to work on and form teams. Our Data Ambassadors will give initial guidance on the data sets and will manage the projects throughout the day. A representative from each NPO will be available to help with questions and you'll have regular check-ins with them to discuss intermediate results.
Sunday, April 22nd
09:00 Doors open & breakfast

12:00 Final presentations begin

14:00 End
You will wrap up projects and prepare final presentations. You'll present prototypes or slides or… just whatever you came up with based on the data. The partner nonprofits will also have an opportunity to ask questions. Presentations will be short (~10min) so that every team can present.
Food & Drinks
We will provide an evening snack on Friday, breakfast, lunch and an evening snack on Saturday and breakfast on Sunday; with fruits, coffee and drinks available throughout. There will be vegetarian/vegan options available for all meals, but please let us know if you have any other dietary needs, restrictions, or food allergies. contact@dssg-berlin.org
Location
DB mindbox Berlin
Holzmarktstraße 6-9
10179 Berlin
inside of S-Bahnhof Jannowitzbrücke left side of Backwerk
Sponsors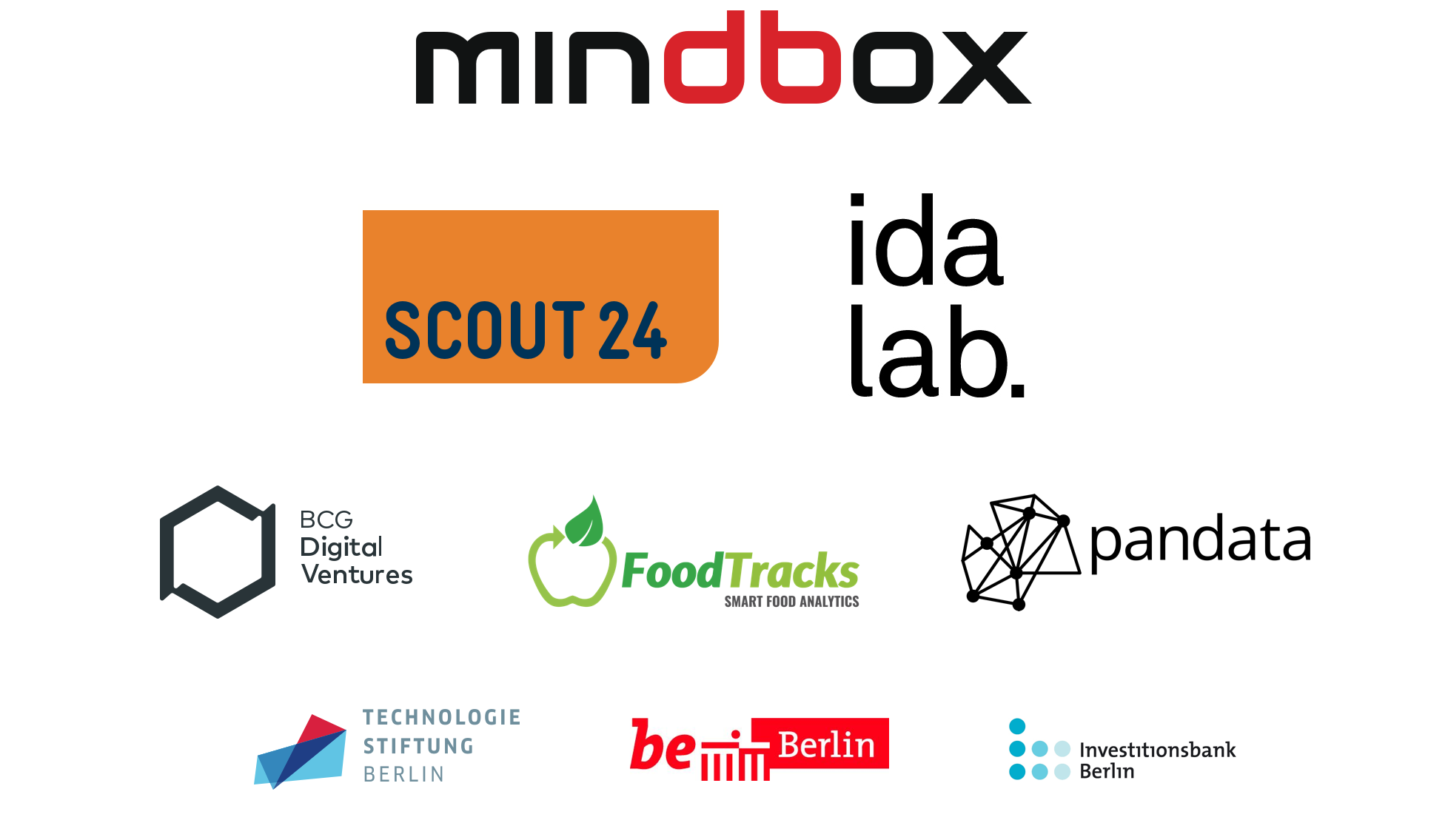 Datum und Uhrzeit
Veranstaltungsort
DB mindbox Berlin
Holzmarktstraße 6-9
inside S-Jannowitzbrücke left side of Backwerk
Berlin, Berlin 10179