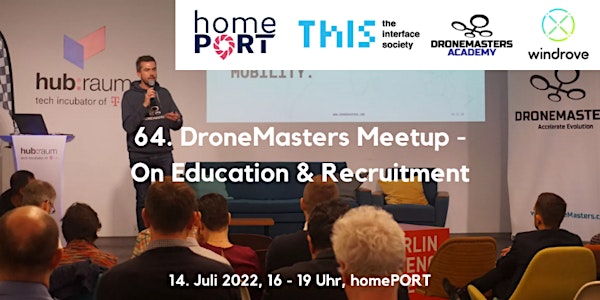 DroneMasters MeetUp - On Education & Recruitment @homePORT
DroneMasters MeetUp mit Fokus Education & Recruitment, Wirtschaftssenator Michael Westhagemann + hochkarätigen Speakern am homePORT.
When and where
Location
homePORT - St. Pauli Elbtunnel (Südausgang!) St. Pauli Elbtunnel Steinwerder Süd 20457 Hamburg Germany
About this event
Im Mittelpunkt des Meetups stehen vor allem der Nutzen von Drohnen für die Ausbildung sowie den damit verbundenen Möglichkeiten, Talente für die zukünftige Luftfahrt zu gewinnen. Vielfältige Anwendungen, unterschiedliche Einsatzgebiete und neue Geschäftsfelder versprechen enormes wirtschaftliches Wachstum und schaffen neue Berufsfelder für die heranwachsende Generation. In diesem Umfeld stehen Unternehmen vor der Herausforderung, Fachkräfte für erst im Entstehen befindliche Aufgabengebiete zu finden. Gleichzeitig werden Berufseinsteiger:innen mit vollkommen neuen Anforderungen konfrontiert. Es werden Lösungsansätze diskutiert sowie neue Ausbildungsperspektiven und Schnittstellen aufgezeigt. Unsere Gäste sind:
Michael Westhagemann (Wirtschaftssenator HH): Grußwort
Franck Wernecke (Founder & CEO DroneMasters)
Friederike Fechner(Projektleiterin bei SOPHIA.T gGmbH)
Christian Bahr (Business Manager Autonomous Systems - HPA/DaaS)
Helge Hackbarth (Executive Consultant Lufthansa Industry Solutions)
Prof. Dr. Maarten Uijt de Haag (Fachgebietsleitung TU Berlin)
Prof. Christian Janke (Professor Embry–Riddle Aeronautical University)
Markus Engelhardt (Head of Drones & Urban Mobility UMLAUT SE)
Das MeetUp ist in Partnerschaft mit DroneMasterAcademy, dem Drohnennetzwerk Windrove von Hamburg Aviation und vor Ort am homePORT in Hamburg. Die kostenlose Teilnahme ist nur nach vorheriger Registrierung möglich.