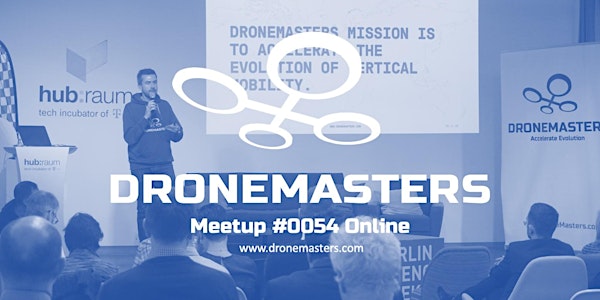 DroneMasters Meetup #054 Online
60 minutes full "droning" - followed by networking online.
About this event
This DroneMasters Meetup will be an online event. The Meetup language is English. Registered participants will receive an access link to join the event. Networking afterward is made possible by DroneMasters's instant messenger.
16:00 CEST (Berlin) / 7:00 am PST (San Francisco) / 10 :00 am EDT (New York) / 11:00 pm CST (Shenzhen) / 02:00 am AEST (Sydney)
Intro. DroneMasters Meetup #054 Online
Frank Wernecke, Founder & CEO, DroneMasters Boost GmbH, Berlin (de), dronemasters.com
1) FlyingCab: Analyzing the User Acceptance of Urban Air Mobility
Franziska Braun, Research Assistant, Fraunhofer Institute for Industrial Engineering IAO, Stuttgart (de), https://www.iao.fraunhofer.de/
2) Enabling Automated Certification for BVLOS Missions
Jinwei Zhou, Lead Engineer, Kontrol GmbH, Linz (at), http://www.kontrol.tech/
3) Facilitating Drone Operations in the Maltese Airspace in Compliance with the EASA Regulations
Denis Hellebuyck, Business Development Manager, IDRONECT, Gent (bg), https://www.idronect.com/
4) Take-off for FLYOX I: The World's Biggest Amphibious Drone
Luis Carrillo, Owner, Singular Group, London, England (uk), http://singularaircraft.com/
5) Transporting a Human Kidney by Drone across the Desert of Las Vegas
Scott Plank, CEO, MissionGo, Baltimore, Maryland (us), https://www.missiongo.io/
Prior registration is mandatory . We reserve the right to make changes to the program at short notice and without prior notice - this does not result in any claim for a refund.
---
The DroneMasters Meetups enable the global dialogue of drone experts and enthusiasts across all industry and sector boundaries in a trusted atmosphere since 2015.
We do not record the meetups, neither publish the presentations nor distribute them. The sharing of knowledge and information is reserved for the participants. Be there or be square.
DroneMasters' mission is to accelerate the evolution of drones and vertical mobility. The DroneMasters Academy inspires for science, tech, engineering, and math (STEM) using drones and drone sports to train future vertical mobility experts. The DroneMasters Boost GmbH is an incubator and consultancy. The DroneMasters Venture GmbH is an investment company focusing on early-stage start-ups.