Die Do's und Don'ts bei der Investorenansprache und der Akquise von Venture Capital
About this event
Business Angels und VCs erhalten täglich Dutzende Pitch Decks und Business Pläne. Junge Startups im Fundraisingprozess müssen sich daher von der Masse abheben und die Aufmerksamkeit des Investment Managers erhalten, der aus der Vielzahl der Einsendungen die vielversprechendsten Vorhaben selektiert. In ihrer Keynote teilt Alissa Prinsloo Tipps für die Ansprache von Investoren und erklärt auf welche Kriterien sie als Investment Managerin achtet. 
Alissa (Linkedin) studierte zunächst Betriebswirtschaftslehre an der Ludwig-Maximilians-Universität und der Copenhagen Business School. Sie begann ihre Karriere bei der UnternehmerTUM in München und sammelte weitere gründungsrelevante Erfahrung u.a bei Flixbus und in der Beratung. Heute ist sie als Investment Managerin bei STS Ventures (sts-ventures.de) für die Identifikation und Selektion potenzieller Investments sowie die Portfoliobetreuung verantwortlich.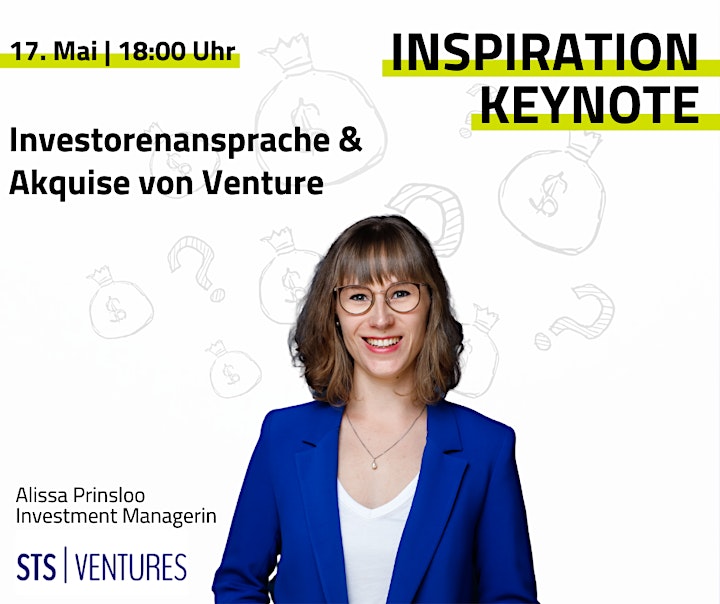 Organizer of Do's und Don'ts bei der Investorenansprache / Akquise von Venture Capital
Wir sind das Innovations- & Entrepreneurship-Zentrum mitten auf dem Bildungscampus. Mit dem Fokus auf innovativen Startups, neuen Methoden, Technologien und Disruption leben wir, was wir fördern. Wir bringen Bildung, Gründungskultur und Unternehmen zusammen und sorgen für Inspiration, Information und Unterstützung. Ausgestattet mit einzigartigen technischen, personellen und infrastrukturellen Ressourcen widmen wir uns mit Leidenschaft, Hingabe und Know-how unserem Ziel: als führendes Startup- und Innovations-Zentrum den besten Teams und Ideen ein Zuhause zu geben und zum Erfolg zu verhelfen.  Komm zu einem unser zahlreichen Events und werde Teil der wachsenden community! ___________________________________________________________________________________  We are the start-up centre in the middle of the Bildungscampus. With a focus on innovative start-ups, new methods, technologies and disruption, we live what we encourage. We bring education, start-up culture and business together and provide inspiration, information and support. Equipped with unique technical, human and infrastructural resources, we commit ourselves with passion, dedication and know-how to our goal: as a leading start-up and innovation center, to give the best teams and ideas a home and help them to succeed. Come to one of our numerous events and become part of the growing community!