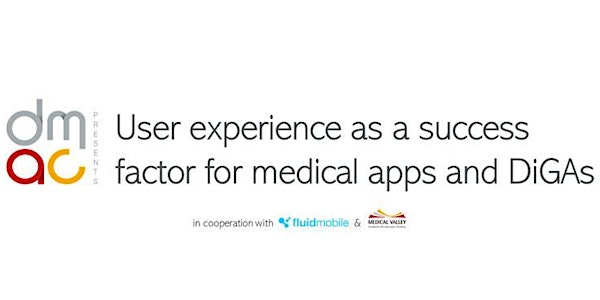 dmac presents: User experience as a success factor for medical apps & DiGAs
dmac presents: "User experience (UX) as a success factor for medical apps & DiGAs"
About this event
When developing mobile software as a medical device (medical app or DiGA), usability and the actual user experience (UX) play a decisive role. Especially UX determines the brand perception and whether an application is recommended and prescribed - or quickly forgotten.
So the question is: How can I ensure excellent UX in my digital health solution in a planned and measurable way?
Together with Christoph Eberhardt, CEO of fluidmobile, we take a closer look on the differences between usability and UX - and their respective importance for product success. Furthermore he will explain how a planned and structured process in all product development stages ensures patient orientation and how UX as success factor can already be optimized in the early planning process of digital health solutions.
In the following participants will have the opportunity to ask their individual questions to the speaker.
We look forward to your participation and an exciting exchange!
PROCEDURE
The event will take place digitally.
The event will last roughly 60 minutes from 14.30 to 15.30 pm (UTC+2).
After registration, you will receive a link to the Microsoft Teams event separately by e-mail in the run-up to the event.
SPEAKER
Christoph Eberhardt, CEO fluidmobile GmbH
As CEO, Christoph Eberhardt has been responsible for strategic corporate development at fluidmobile for ten years. With 20 years of experience in software and product development, he has in-depth expertise in medical apps, user experience, product design and marketing.
fluidmobile
The ISO 13485 certified fluidmobile GmbH is specialized in the development of Mobile Software as a Medical Device. As a service provider for medical technology and pharmaceutical companies, we offer an integrated development service: From the customized conception all the way to the marketing of your Mobile Software, DiGA or DiPA, you receive everything from a single source and always have an expert for technical and regulatory questions within reach.
High-performance teams create a secure and perfectly functioning software product with CE certification for iOS and Android. At fluidmobile, the focus is on excellent user experience, to provide a pleasant, intuitive and simple application and to ensure the success of the product. Find out more: www.fluidmobile.de
HOST
dmac - The Medical Valley Digital Health Application Center
dmac is a joint venture of Medical Valley EMN and Fraunhofer IIS and builds on both partners' complementary strengths. We combine expertise from medicine, business and technology for a holistic view on healthcare in general as well as on specific healthcare solutions. dmac's key asset is a multidisciplinary team of digital health enthusiasts with a proven track record in the industry.
We offer a portfolio of complementary consulting and clinical research services as well as tools and data to provide a holistic yet tailored and need-based experience for each partner. With its one-stop-shop approach dmac is able to support every stage of its partners' innovation process – from idea generation over market access to reimbursement.