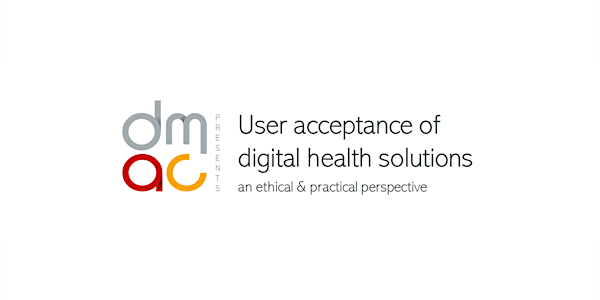 dmac presents: User acceptance of digital health solutions
dmac presents: "User acceptance of digital health solutions - an ethical & practical perspective"
About this event
A great digital health solution is not necessarily successful if it is not accepted by the patient or if he or she has reservations about the application, for example regarding data protection. They may feel that their privacy has been violated even though the function of the device may already provide appropriate safeguards. This results in the following challenges for the manufacturer: How can issues such as fear and privacy be addressed in the application for patients? How can these issues be considered in a responsible way when designing a medical device (software and hardware)?
Together with Petra Widlroither, CX/UX Design manager at Carepath Technologie, and Sijmen van Schagen, Scientific Communications Manager at dmac, we want to shed light on these questions by means of both a practical example and ethical theories, and thus explore approaches to create user acceptance for digital health solutions among patients.
As participant you will also have the opportunity to ask their individual questions to the speaker.
We look forward to your participation and an exciting exchange!
PROCEDURE
The event will take place digitally.
The event will last 90 minutes from 10.30 to 12 am (UTC+2).
After registration, you will receive a link to the Microsoft Teams event separately by e-mail in the run-up to the event.
SPEAKER
Petra Widlroither, Carepath Technologie
Since April 2022 Petra Widlroither is CX/UX Design manager with a digital start-up in MedTech. During the last 8 years she was responsible for the UX/UI management and for the corporate design strategy at the headquarter of a medium-sized, technology-leading company in Germany. Trained as an industrial designer with scientific background in human factors she has more than 20 years of work experience in technical product development and in user centred software conception. Her focus is on design, product and marketing strategies that meets both the needs of the customer and the brand ideas of the company.
Sijmen van Schagen, dmac
Coming from a background in management consulting and digital media, Sijmen van Schagen has worked for dmac since 2020. As dmac aims to successfully provide market access for DiGAs, he contributes to academic and non-academic publications in the field of DiGAs and more broadly, digital therapeutics (DTx) in an international context. Holding master's degrees in both Business Communication & Digital Media and Philosophy of Technology, his PhD-research focuses on Societal Readiness of DTx. It touches upon various aspects of ELSI / Responsible Research and Innovation (RRI) and aims to bring an effort to increase patient engagement and patient empowerment.
HOST
dmac - The Medical Valley Digital Health Application Center
dmac is a joint venture of Medical Valley EMN and Fraunhofer IIS and builds on both partners' complementary strengths. We combine expertise from medicine, business and technology for a holistic view on healthcare in general as well as on specific healthcare solutions. dmac's key asset is a multidisciplinary team of digital health enthusiasts with a proven track record in the industry.
We offer a portfolio of complementary consulting and clinical research services as well as tools and data to provide a holistic yet tailored and need-based experience for each partner. With its one-stop-shop approach dmac is able to support every stage of its partners' innovation process – from idea generation over market access to reimbursement.