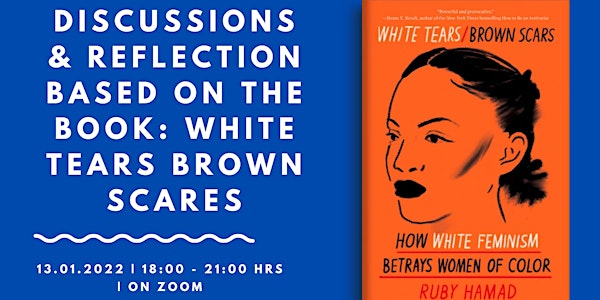 Discussions & Reflection based on the book: White Tears Brown Scares
Eventinformationen
Rückerstattungsrichtlinie
Rückerstattungsrichtlinie
Weißer Feminismus. Was ist das? und warum ist er rassistisch? Was brauchen wir um aktiv gegen die rassistische Spalung in der feministischen
Zu diesem Event
This workshop will look at the history of feminism and how it has impacted and will continue to impact People of Color unless we address and dismantle it. White women play a central role in the integral manifestation of racism and the structure of white supremacy.
At this event, we will analyze the role of women in the white supremacy, the terminologies, power dynamics and how white women's feminism is more toxic than they realize, and also offer action skills to empower activists to better place themselves in support of BIPOC movements.
This workshop is based on the book "How White Feminism Betrays Women of Color" by Ruby Hamad.
This book does a great job of showing how white women exploit their privilege and power to maintain white supremacy. I like the way this book takes a deep look at the global perspective of how white women's behavior impacts "women of color" (regardless of how white they appear or look) around the world. The author does a great job of unpacking many of the harmful and limiting stereotypes used to categorize women of color, and this information and understanding is incredibly useful in countering these tropes in oneself and in the world at large. This book doesn't mince words or sugarcoat anything to fit anyone's white fragility. In my opinion, this book helps white women, actually white people, understand a different perspective than their own and how their behavior as a white woman can cause irreparable harm to "women of color." With this book, white women are able to find a starting point to choose a different approach to white feminism and open the door to intersectionality.
This workshop is an opportunity for all self-proclaimed feminists to learn, process, and take action for a more inclusive feminism.
PS: We will confirm the names of our speakers soon.
Datum und Uhrzeit
Veranstaltungsort
Rückerstattungsrichtlinie