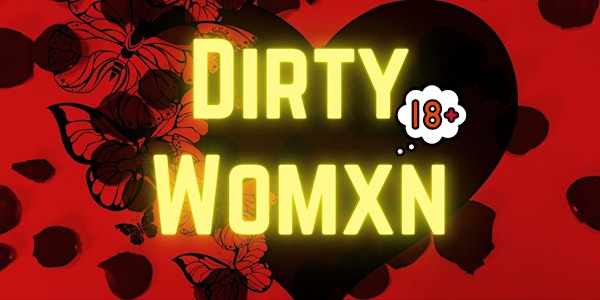 Dirty Womxn: Standup Comedy by Dirty Dirty Gals | English #15
Late night comedy by the filthiest ladies in town, PRO level.
Date and time
October 20 · 10:10pm - October 21 · 12:10am CEST
Location
Z-Bar Bergstraße 2 10115 Berlin Germany
About this event
6 funniest women in town deliver their filthiest material in 1 night.
❗️Caution: laughter and blushing guaranteed! 😂
🚀 Fasten your seatbelts for a no-filter, adults-only adventure into the minds of the sassiest, most audacious women in comedy!
😜 And yes, they're ready to bare it all (figuratively speaking, of course)!
Ticket:
👉 It's time to break the myth that laughter is free. Comics have rent to pay, Falafels to eat, and probably a few therapy bills to cover up their emotional scars from telling jokes for a living. We can't pay the bills with compliments or rainbows, we need cold hard cash.
🤑 This ain't no free gig. It's a Pay What You Want situation. How does it work? You get to decide how much to donate AFTER you've laughed your butt off. If you're planning on soaking up the jokes without leaving a tip, better skip this show!
💰 we suggest a donation of 15€ - 20€.
💰 Students & unemployed 7€ - 10€.
💰 We accept cards & cash.
❓ Is smoking allowed at the show?
👉 No! The bar is a smoking bar, however, the room where the show takes place is strictly smoking 🚭not allowed.
❓ In Berlin, most shows are free, why this show ask for donations?
👉 In truth, no shows are entirely free. When shows promote themselves as FREE, they meant free entry. You enter the show without paying but donate after the show.
We don't market our show this way for two main reasons:
1) It's not entirely honest, as the show isn't really free.
2) Promoting as a "free show" often attracts less attentive audience members who may talk during the performance, snack loudly, or constantly leave and return, disrupting the experience for others.
Keep in mind, most Berlin comedy shows are "open mics" where comics perform without pay. This show operates on percentage basis, each performer gets a cut of the donations. So when you donate, you're not only getting quality laughs, but you're also supporting fair wages!
❓ Why not simply charge for tickets?
 👉 The quality of shows in Berlin can vary greatly. Some may be organized by beginner comedians seeking stage time and hosting experience, while others might be run by experienced comics who may not focus as much on the production aspect, which can lead to less-than-ideal customer experiences.
Moni Zhang, a full-time comedian with 5 years of experience, aims to bring top-notch comedy served with a side of unforgettable audience experiences. Having produced and hosted hundreds of shows in Berlin and participated in multiple international comedy festivals, she possesses well-rounded skills as a host, comic curator, and producer.
We operate on a donation-based model because we have confidence in our show's quality and want to minimize the risk for our audience, allowing them to enjoy the show & pay AFTER a fantastic experience.
❓ Wow, this show is so interesting, but I can't make it on this date :( When's the next one?
👉 Monthly! Follow Moni's Eventbrite Page to get notified of future shows.
❓ I want to perform. How may I sign up?
👉 This is a professional-level show. It's invite-only, signups are not possible.
If you want to sign up for OPEN MICS, please go to the following link, on each event's discussion page to write "spot" and a one-sentence introduction to sign up. Please DO NOT pm me, it's very hard to keep track of direct messages!
https://www.facebook.com/moni.zhang.comedy/events/
When & where:
3rd Friday of the month
Doors open: 10.10pm
Showtime: 10.40 - Midnight
📍 Z-Bar: Bergstraße 2, 10115 Berlin. Near Rosenthaler Platz