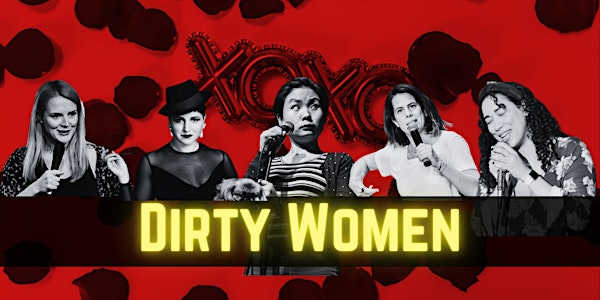 Dirty Womxn: Standup Comedy by Dirty Dirty Gals | English #08
Late night comedy by the filthiest ladies in town
Date and time
Friday, March 17 · 10:10 - 11:59pm CET
Location
Z-Bar Bergstraße 2 10115 Berlin Germany
About this event
5 funniest women in town deliver their filthiest material in 1 night.
🔥🔥🔥 Lineup 🔥🔥🔥
🎤 Host - Moni Zhang 🇨🇳 (INS @moni.zhang.comedy)
Winner of Berlin New Standup Award 2019 & Founder of Berlin Mental Health Festival. Moni is featured by BBC, Euronews, Scottish Field, and The Scotsman. Now touring with her Edinburgh Fringe 2022 Sell-out show "Child from Wuhan".
🎤 Kat Nip 🇵🇱 (IG @katnippresents)
Kat is a Polish stand-up comedian based in Berlin. She performed all over the world; Cape Town, London, Amsterdam, Barcelona, Vienna and Bangkok to name a city or six.
Kat's been called a 'Polish Joan Rivers', 'joke kalashnikov' and 'my favourite' (no, not by her mum). Her energetic, fast-paced storytelling is jam-packed with unexpected punchlines, brutal honesty and a sprinkle of Eastern European pizzazz. Buckle up, it's a rollercoaster!
Winner of the Comedy Store London King Gong in 2022 and double winner of Blackout at Up the Creek Comedy Club in 2021. She wrote for and acted in Comedy Central PL "Mini-Mocks" series in 2022 & 2023. You might've spotted her on ARTE TV and Buzzfeed UK too!
🎤 Diva D'Luscious 🇺🇸 (INS @pinupsoprano)
Internationally acclaimed opera singer and cabaret performer, Diva integrates multiple art forms to create darkly comedic and twisted takes on classical songs, musical theater, and burlesque. A Diva in the streets and the sheets, she is especially excited to share her voice and body in new, unconventional, innovative, and scandalous ways.
🎤 Linda Findel 🇫🇷 (IG: @li_loosh)
Living in Berlin for a decade, Linda sees absurdities and laughs about her own misadventures. It's been 3 years that she's performing in French or English, on the stages of Berlin, Paris and maybe Las Vegas soon?
🎤 Palma Palacios 🇩🇴 (IG: @palmapalacio)
Classy, sassy, mostly just gassy. Palma is the loud high-energy Latina your funny bone was missing. She performs comedy in English and Spanish and in both languages tries to find the difference between having something to say and having to say something…funny
Ticket:
👉 It's time to break the myth that laughter is free. Comics have rent to pay, Falafels to eat, and probably a few therapy bills to cover up their emotional scars from telling jokes for a living. We can't pay the bills with compliments or rainbows, we need cold hard cash.
🤑 This ain't no free gig. It's a Pay What You Want situation. How does it work? You get to decide how much to donate AFTER you've laughed your butt off. If you're planning on soaking up the jokes without leaving a tip, better skip this show!
💰 we suggest a donation of 15€ - 20€.
💰 Students & unemployed 7€ - 10€.
💰 We accept cards & cash.
❓ Is smoking allowed at the show?
👉 No! The bar is a smoking bar, however, the room where the show takes place is strictly smoking 🚭not allowed.
❓ Wow, this show is so interesting, but I can't make it on this date :( When's the next one?
👉 Monthly! Follow Moni's Eventbrite Page to get notified of future shows.
❓ I want to perform. How may I sign up?
👉 This is a professional-level show. It's invite-only, signups are not possible. If you want to sign up for OPEN MICS, go to Facebook each events' discussion tab to write "spot" and a one-sentence introduction to sign up. Please DO NOT pm me, it's very hard to keep track of direct messages!
When & where:
Friday 17. Mar
Doors open: 10.10pm
Showtime: 10.40 - Midnight
📍 Z-Bar: Bergstraße 2, 10115 Berlin. Near Rosenthaler Platz