Dieses Event ist beendet.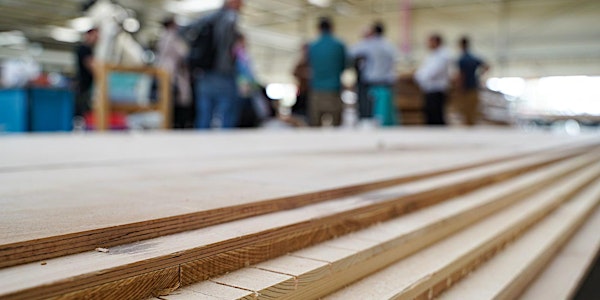 digitize wood NetworkMeeting – Rethinking BIM
Networkmeeting for knowledge transfer between research and practice in timber construction.
Zeit und Ort
Veranstaltungsort
ARENA2036 Pfaffenwaldring 19 70569 Stuttgart Germany
Karte und Wegbeschreibung
Zu diesem Event
digitize wood NetworkMeeting – Rethinking BIM
The sixth network meeting will take place at the Institute for Entrepreneurship and Innovation Research (ENI) at the University of Stuttgart. ENI promotes entrepreneurship in theory and practice with an interdisciplinary approach that combines new technologies, innovation and science with the idea of sustainability. Marcel Werle will give us an overview of the principle of cooperative start-up culture and the consulting services of the center.
From the digitize wood team, Moritz Mahlke will discuss the origins of the requirements for better interoperability in the AEC industry and take a critical look at the BIM approach in the context of today's theoretical possibilities and actual implementations. The final step towards manufacturing will be discussed with some results from the BIMwood research project and the question of alternative approaches will be raised.
In her talk, Diellza Elshani from the Institute for Computational Design and Construction (ICD) addresses the question: Are graphs the new BIM? AEC projects require multidisciplinary solutions; therefore, one physical asset results in several federated disciplinary representations. Knowledge graphs with ontologies can integrate such federated data models. Her talk covers: a brief roadmap of ontologies in computer science and philosophy, description logics and reasoning exemplified in AEC examples, and BHoM RDF -a toolkit that allows co-designing with knowledge graphs within AEC software.
Erik Bossong from GROPYUS talks about the Eco-Twin approach, which represents a holistic data strategy that enables us to continuously improve buildings as sustainable products in a data-driven way, thus contributing to emission savings.
Following the presentations, there will be time for exchange and networking. We invite you to round off the evening together with a drink and stimulating conversation.
Program
2:00 pm
Welcome
Julia Mederus, Plattform digitize wood
2:10 pm
Introduction ENI – Funding Opportunities, EXIST-Program,
Marcel Werle, Institute for Entrepreneurship and Innovation Research (ENI)
2:25pm
Brave New BIM – History aspects, today's ambiguities, future and alternatives
Moritz Mahlke, Plattform digitize wood
2:45 pm
BIM with Knowledge Graphs – Co-designing buildings using ontologies
Diellza Elshani, Institute for Computational Design and Construction (ICD), Cluster of Excellence IntCDC
3:30 pm
Coffee Break, Guided Tour through ARENA2036
4:00 pm
Eco-Twin – An information model-driven approach to realizing greenhouse gas savings potential
Erik Bossong, GROPYUS
4:30 pm
Questions and Discussion
5:00 pm
Get Together
Information and Registration
Admission: free
Registration: required
Language: English
Please note: We will record and publish the event for purposes of documentation, reporting and evaluation in image and sound, including on websites and social media. With your registration you agree to this use.
Arrival by car: Parking is available along Pfaffenwaldring, behind the ARENA building and in the parking lot across the street.
Arrival by public transport: From the main station take the S-Bahn lines: S1 direction Herrenberg, S2 direction Vaihingen/Filderstadt or S3 direction Vaihingen/Airport. Get off at the "Universität" stop and take the Universitätszentrum exit. Go straight ahead and follow the signs to MPA (Otto Graf Institut).
About the speakers
As a startup coach at the Institute for Entrepreneurship and Innovation Research (ENI) at the University of Stuttgart, Marcel Werle advises students and young scientists on their startup ideas for the EXIST programs. His focus is on digital business models and technology. He has a background in business informatics.
Diellza Elshani is a research associate and doctoral candidate at the Institute for Computational Design and Construction (ICD) at the University of Stuttgart. Her research interest lies in using computational methods in co-design and developing ontologies that improve the interoperability in multidisciplinary architectural design. She holds a Master of Science in Integrated Urban Development & Design from the Bauhaus University of Weimar and a Bachelor of Architecture from Mimar Sinan Fine Arts University in Istanbul.
Erik Bossong is senior manager R&D at GROPYUS. Prior to GROPYUS, he worked in the management of non-profit research institution, supervising development and research activities, including digitalization, manufacturing technology, information concepts and systems. He is a trained carpenter, Dipl.-Ing. (FH) Timber Construction and Finishing, M.Eng. Wood Technology and a member of the AiF FTK Innovators Net and the Leichtbauzentrum Baden-Württemberg (LBZ-BW).
About the partners
In regular network meetings, digitize wood organizes the two-way knowledge transfer between timber construction research at the Cluster of Excellence IntCDC as well as the industry in Baden-Württemberg. In addition, digitize wood organizes training courses and workshops, networks with other timber construction initiatives and is involved in public relations for timber construction.
digitize wood is based at the Cluster of Excellence IntCDC at the University of Stuttgart and is funded by the Ministry of Rural Areas Baden-Württemberg (MLR) as part of the Holzbau-Offensive BW. More info
The University of Stuttgart established the Cluster of Excellence "Integrative Computational Design and Construction for Architecture" (IntCDC) in 2019. With an initial funding period of seven years, a cluster of excellence is the most significant and extensive funding of the German Research Foundation (DFG). This is the first time that a Cluster of Excellence has been awarded in the field of architecture. It will help to establish an internationally visible research center. More info
The Institute of Entrepreneurship and Innovation Science (ENI) fosters entrepreneurship with an interdisciplinary approach linking emerging technologies, innovation, and science with a sustainability mindset. The focus of the institute is on the cooperative cultivation of start-up culture in research, teaching and transfer in order to raise the full potential for business start-ups at the University of Stuttgart. This is in line with the transfer of knowledge and technology as the third core strategy element of the university alongside research and teaching. More info
ARENA2036 stands for "Active Research Environment for the Next generation of Automobiles" and is one of nine research campi of the funding initiative "Research Campus – Public-Private Partnership for Innovations" in Germany. ARENA2036 is supported by the Federal Ministry of Education and Research (BMBF) and is run as a registered association with members from science and industry. Our partners are active in various disciplines – from the automotive industry, aerospace technology, textile and materials research to industrial science. More info