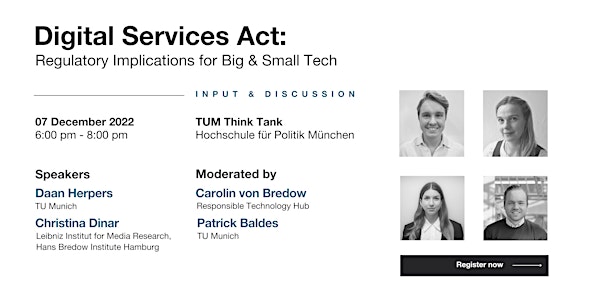 Digital Services Act: Regulatory Implications for Big & Small Tech
Join us for our input & discussion talk about the DSA and its regulatory implications for Big and Small Tech.
When and where
Location
Hochschule für Politik München Richard-Wagner-Straße 1 80333 München Germany
About this event
The Digital Services Act, which will be directly applicable across the EU from February 2024, is a framework designed to address the societal and economic impacts of the tech industry. The rules specified in the bill primarily concern online intermediaries and platforms such as online marketplaces, social networks, app stores, and content-sharing platforms. Its aim is to set the standards for how these companies will operate and provide services in the EU.
If you are interested in participating in a discussion about the regulatory implications of the DSA for Big and Small tech companies, join us at the TUM Think Tank!
Speakers:
Daan Herpers is a researcher at the professorship of Law, Science, and Technology of the STS department at TU Munich. He will give us an overview of how the DSA opens up space for new participatory steps in the evolution of European risk governance of the online environment.
Christina Dinar is a Junior Governance Researcher at the Leibniz Institut for Media Research Hans Bredow Institut, Hamburg. She will speak about her research beyond Big Tech platforms and possible challenges to the current DSA regulation for small tech and alternative social media platforms.
Patrick Baldes is a Research Associate at the Technical University of Munich investigating the regulation of online platforms in the European Union. He will co-moderate the event and introduce us to the Digital Services Act and its politics.
Carolin von Bredow is a co-founder of the Responsible Technology Hub and a Graduate Research Assistant. In her postgraduate studies in Politics and Technology at TUM, Carolin focuses on political communication and the ethics and regulation of emerging technologies. She will co-moderate the event.