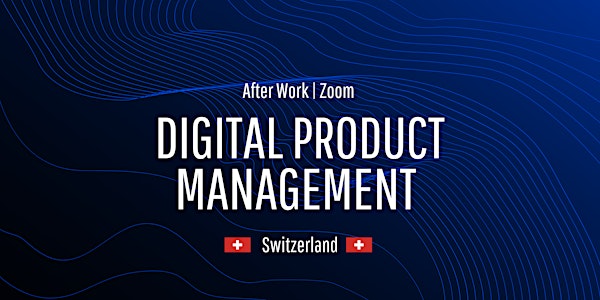 Digital Product Management Switzerland After Work
Sales Have Ended
Registrations are closed
Thank you for your registration. Your dial-in links will follow a few hours before the event - make sure to mark and block your calendar, spread the word, and reach out via Linkedin. We are looking forward to connecting virtually.
Connect, inspire and grow: The after-work event for insights and ideas from the world of digital product management & innovation
About this event
Digital product management is considered among the top skills of the future: Whether in pharma, banking, insurance, engineering, tourism, trade, or even public administration, digital products are increasingly becoming an integral part of the value creation of any business.
Digital Product Management Switzerland is designed to connect, inspire and grow the next generation of digital product managers and innovators: Together we exchange ideas and insights, discuss the latest tactics, and interesting product management-related topics: entertaining, time-effective, and inspiring as a digital after work event.
👥 Who should attend:
Digital products and software are becoming an integral part of the value creation chain of almost every business. The event is designed to empower professionals, executives, and decision-makers as well as aspiring product managers from corporations, SMEs, startups, and spin-offs who are envisioning their personal and professional digital future and are leading the charge in their organizations with digital products.
Together we explore big-picture questions like: How can we become more innovative? How do we prevent product failure, and ensure a digital product's success? What's special in managing and building new digital products in our industry?
🗓 Event schedule:
After a welcoming keynote by the organizer, the event provides you with the opportunity to get insights, learn about product management tactics, and exchange ideas about the latest product management-related topics in virtual rooms.
Afterwards, we will meet at the "Virtual Bar" in a relaxed atmosphere: Get a cool drink and exchange with other product executives and innovators about ideas and projects.
Connecting, growing, and getting inspired is the focus of the evening: entertaining, time-effective, and inspiring as digital after-work event.
📲 Registration: Get your free ticket now on Eventbrite or RSVP on Meetup, and block the time in your calendar.
🏆 Spread the word: Do you know someone who could benefit by participating? Invite him/her to join the event or share the event in your feed #SharingIsCaring
🔗 Connect with the organizer:
The event is presented to you by Philip Mertes: A passionate and award-winning health innovator and guest lecturer for Digital Product Management at Kalaidos University of Applied Sciences Zurich. He shares insights and opinions about "The Science of Innovation" and digital product management in highly regulated environments on Linkedin and is always interested in connecting with aspiring innovators around the globe: Connect via Linkedin using #DigitalProductManagementSwitzerland: https://www.linkedin.com/in/philipmertes/