About this event
=== English version below ===
DICA-TALK Niklas Other (Autor, INSIDE Getränke) und Jerome Hamacher (Program Manager, DICA)
Mit diesem DICA-Talk setzen wir das online Netzwerkformat des Drink Innovation Campus fort. Dieses Event beschäftigt sich mit "Verpackung von smart bis nachhaltig". Zudem werden wir uns anderen Herausforderungen der Getränkewirtschaft wie Marketing, Logistik und Nachhaltigkeit widmen.
Programm: 16:00 - 17:30
Welcome & Einleitung zu DICA
Jerome Hamacher (Program Manager, DICA)
Start-up Pitches
Impulsvortrag
Netzwerken in Break-Out Sessions
Wrap up und Schlussworte
Wir freuen uns auf den Start dieser ersten virtuellen und interaktiven Veranstaltung mit Euch.
Ein Link zu dem Zoom-Meeting werden wir einen Tag vor dem Event verschicken. Falls ihr dieses Tool noch nicht kennt, installiert es vor ab und testet es einmal.
Euer Jérôme
=== English Version ===
DICA-TALK with Niklas Other (Editor, INSIDE Getränke) and Jerome Hamacher (Program Manager, DICA)
We continue with our virtual networking format DICA-Talk! This time we will discuss "Packaging from smart to sustainable". In addition, we will address other challenges facing the beverage industry, such as marketing, logistics and sustainability.
Program: 4:00 PM - 5:30 PM
Welcome & Introduction to DICA
Jerome Hamacher (Program Manager, DICA)
Start-up Pitches
Impulse Talk
Networking in Break-Out Session
Wrap up and closing impressions
We are excited to start this virtual and interactive experience with you!
A link to the Zoom-meeting will be send one day before the meeting.(Please install and familiarize with this tool if you have not used it yet)
Your Jérôme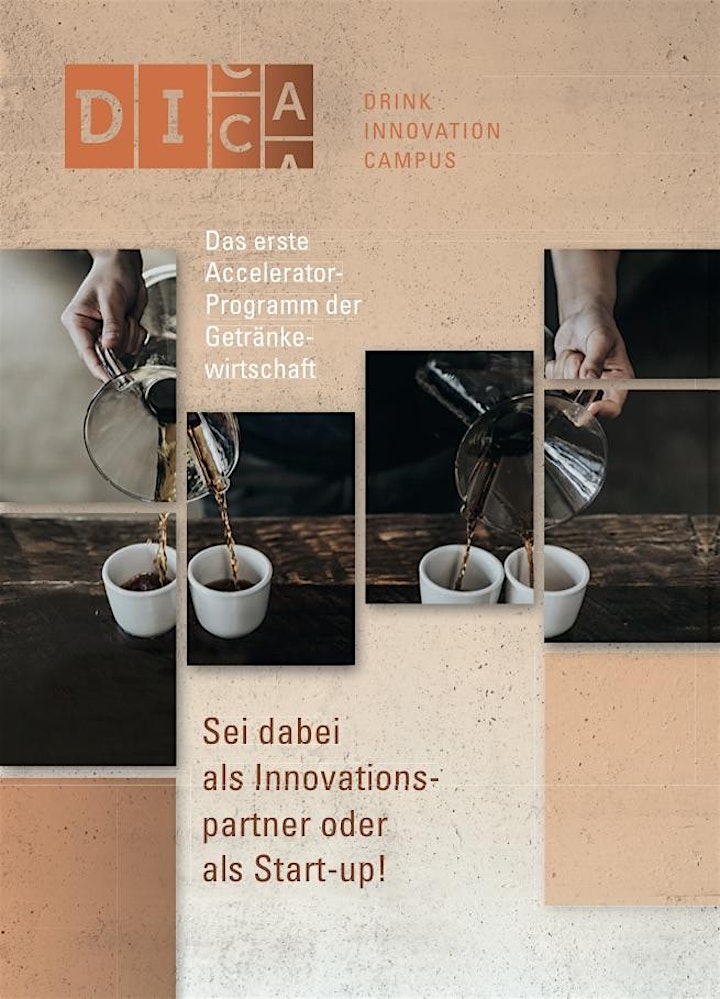 Organizer of DICA-Talk // Verpackung von smart bis nachhaltig
Das SCE ist das Entrepreneurship Center der Hochschule München und bietet Aus- und Weiterbildungsprogramme im Bereich Entrepreneurship, erforscht und fördert Innovationsprozesse und die Entwicklung von unternehmerischen Persönlichkeiten. Das SCE unterstützt Gründungen aus der Wissenschaft und begleitet junge Unternehmen von der Ideenentwicklung bis zur marktfähigen Innovation. Damit trägt es zu einer aktiven Zukunftsgestaltung unserer Gesellschaft und zur Etablierung einer umfassenden Gründungskultur bei. Das Center ist 2002 von der Falk F. Strascheg Stiftung als An-Institut der Hochschule München gegründet worden. Im Juli 2011 wurden das SCE und die Hochschule München eine der drei ersten EXIST-Gründerhochschulen Deutschlands.
Weitere Informationen finden Sie unter: www.sce.de