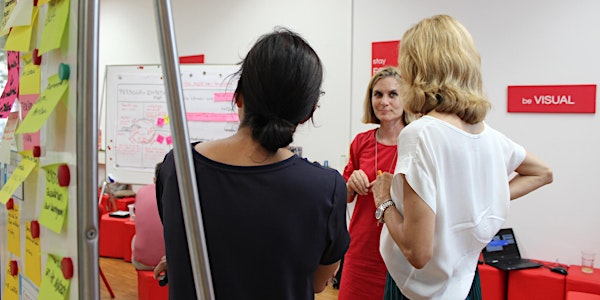 Design Thinking Workshop
Sei dabei bei unserem nächsten Design Thinking Workshop und tauche in deine erste Design Thinking Challenge ein. Gemeinsam legen wir los!
When and where
Location
DESIGN THINKING TIROL Fallmerayerstraße 6/4 6020 Innsbruck Austria
Refund Policy
Contact the organizer to request a refund.
About this event
Zu diesem Event
Diesen Workshop solltest Du buchen, wenn Du:
grundlegende Prinzipien von Design Thinking kennenlernen möchtest
die einzelnen Phasen und Methoden von Design Thinking- von Bedürfnisanalyse bis zum Prototyping - erleben möchtest
Design Thinking anhand einer selbstgewählten Challenge ausprobieren möchtest
Was Dich erwartet
In nur 4 Stunden wirst Du die Innovations-Methode Design Thinking intensiv kennenlernen. Nach einer kurzen Einführung in die Methode und Erfolgsfaktoren, startest Du in kleinen Teams á 3-5 Personen in deine eigene Challenge. Im Team wirst Du im ersten Schritt das Kundenproblem verstehen und im zweiten Schritt das Kundenproblem lösen. Im Laufe des Workshops wirst Du 7 klassische Design Thinking Methoden selbst ausprobieren. Und viel persönlichen Input aus meinen 6 Jahren Design Thinking-Erfahrung als Coach und Trainer bekommen – alle Workshops moderiere ich mit viel Engagement und Empathie selbst.
Worum es geht
Wir sind alle ständig auf der Suche nach der nächsten großen Marktopportunität - der Wachstumschance für unser Unternehmen. hierfür stellen wir uns täglich die Fragen: Welche Vorliebe hat meine Zielgruppe? Welches Produkt könnte ihr gefallen? Design Thinking ist eine agile Methode und aktiviert die rechte Gehirnhälfte nutzt also "Intuition und Emotion": Ideen werden entwickelt und sofort mit dem Kunden getestet - das gefällt mir so gut an Design Thinking!
Was Du lernen wirst
Im Rahmen des Workshops lernst Du die einzelnen Schritte und die Erfolgsfaktoren der Methode Design Thinking kennen.
• Du erhältst eine ausführliche Einführung in Methode & Prozess
• Du startest mit deiner eigenen Challenge in Kleingruppen
• Du wirst Dich in die Zielgruppe hineinversetzen, hierzu nutzen wir Tools, um Nutzergruppen zu identifizieren und die Bedürfnisse zu verstehen
• Du wirst Lösungsansätze für neue Produkte & Services finden, hierzu nutzen wir Techniken, um kreative Ideen und Lösungen zu entwickeln und zu testen
Ziel des Workshops ist es, die Teilnehmer für die Methode "Design Thinking" zu begeistern, so dass ihr danach selbst loslegen und "Design Thinking"-Sessions in eurem Umfeld als Moderator begleiten und anleiten könnt.
Wer teilnehmen sollte
Dieser Workshop ist für all diejenigen entwickelt, die in Unternehmen, Agenturen und Organisationen neue Produkt- und Service-Ideen entwickeln und verantworten. Er eignet sich genauso gut für CEO´s und Geschäftsführer wie für Produkt- und Projektmanager, Selbständige, Designer sowie Webentwickler, die ihren Erfahrungshorizont im Bereich der Innovationsmethoden erweitern möchten.