Dieses Event ist beendet.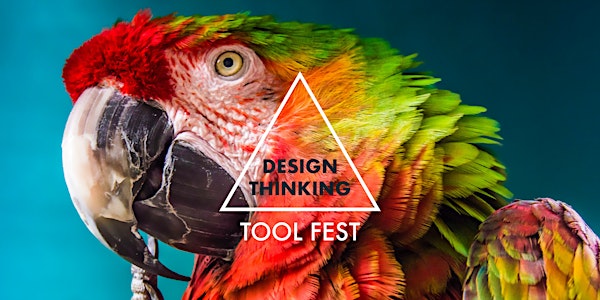 Design Thinking ToolFest
Zeit und Ort
Veranstaltungsort
HPI School of Design Thinking August-Bebel-Straße 88 Haus D 14482 Potsdam Germany
Karte und Wegbeschreibung
Rückerstattungsrichtlinie
Keine Rückerstattungen
Beschreibung
The Design Thinking ToolFest is a unique event for everyone, who already has an idea about Design Thinking and wants to bring their Design Thinking expertise to the next level. It is an intensive workshop festival with interactive sessions and input talks, in which you learn how to apply Design Thinking in your daily work successfully. In each block, we focus on another, innovative method. This way you have the change to really dive into the method, get to know it and try it out on your own. After the Design Thinking ToolFest, you will definitely have many new, creative tools in your portfolio that will help you making a difference at work.
What is planned?
The day is divided into four tracks: Design Thinking Application, Observation and Synthesis, Ideation and Prototype. Each workshop is run by one to three trained coaches and comprises 10 to 20 people. Later in the afternoon, four panel discussions will be offered on specific developments in Design Thinking. Between and after the sessions, there will be lots of opportunities to mingle in a relaxed atmosphere, share your learnings of the day and get in touch with the other participants.
To fuel you with energy for the day, there will be drinks and food for free! All workshops are held in English to cater for our exiciting and diverse attendees. However, there will always be people around who speak German and can help you with questions!
What will you learn?
Bring your Design Thinking expertise to the next level! You will have the chance to discover the latest trends and creative methods in the field of Design Thinking.

In our long, two-hour workshop sessions, you will be able to dive into each method and try it out yourself to develop strong, new skills.

After the ToolFest, you will feel confident to apply the new methods in your job or your personal projects.

Gain new inspiration in our panel talks and learn about what is needed to create a creative and innovative atmosphere in your own company.

Meet many exciting people from the creative and innovation business in Berlin and the region. By working together with these people, you will build strong relationships that last longer than the event itself.

And of course: Have an extraordinary day of fun and inspiration at the School of Design Thinking.


Who should come?
The event is perfectly suiteable for professional design thinkers, product and UX designers, managers, team leads, freelancers, bloggers, marketing professionals and anyone who wants to take their design thinking to the next level. If you don't have any prior Design Thinking experience, we got you covered! There will be an introduction session offered in the morning.


List of speakers and workshop-leaders
The workshops and talks at this event will be offered by top-notch experts. We are very proud to work with such inspiring people.
Jonathan Edelman - Visiting professor at the Hasso Plattner Institute (HPI) and former head of Global Innovation Design program at the Royal College of Art in London
Alejandro Lecuna - Professor for Design and Innovation at the HTW Berlin - University of Applied Sciences
Jule Schröder - Design Thinking coach and co-founder of the innovation agency Kill Your Darling
Nils Karn - Lecturer for instructional design methods at the University of Cologne
Michael Metzger - Design Thinking coach and executive board member of D.Collective
Wen Long Qu - Managing director at The Ikigai Mind
And many more!
Where does it take place?
The School of Design Thinking at the Hasso Plattner Institute offers space for creative work and learning on three floors. We will setup a creative learning world for you that waits to be discovered by you.
Address: August-Bebel-Strasse 88, Haus D, 14482 Potsdam
The school is a 10-minute walk from S Bahnhof Griebnitzsee. Parking is also available.
Contact: You can reach us at info@politicsbydesign.org.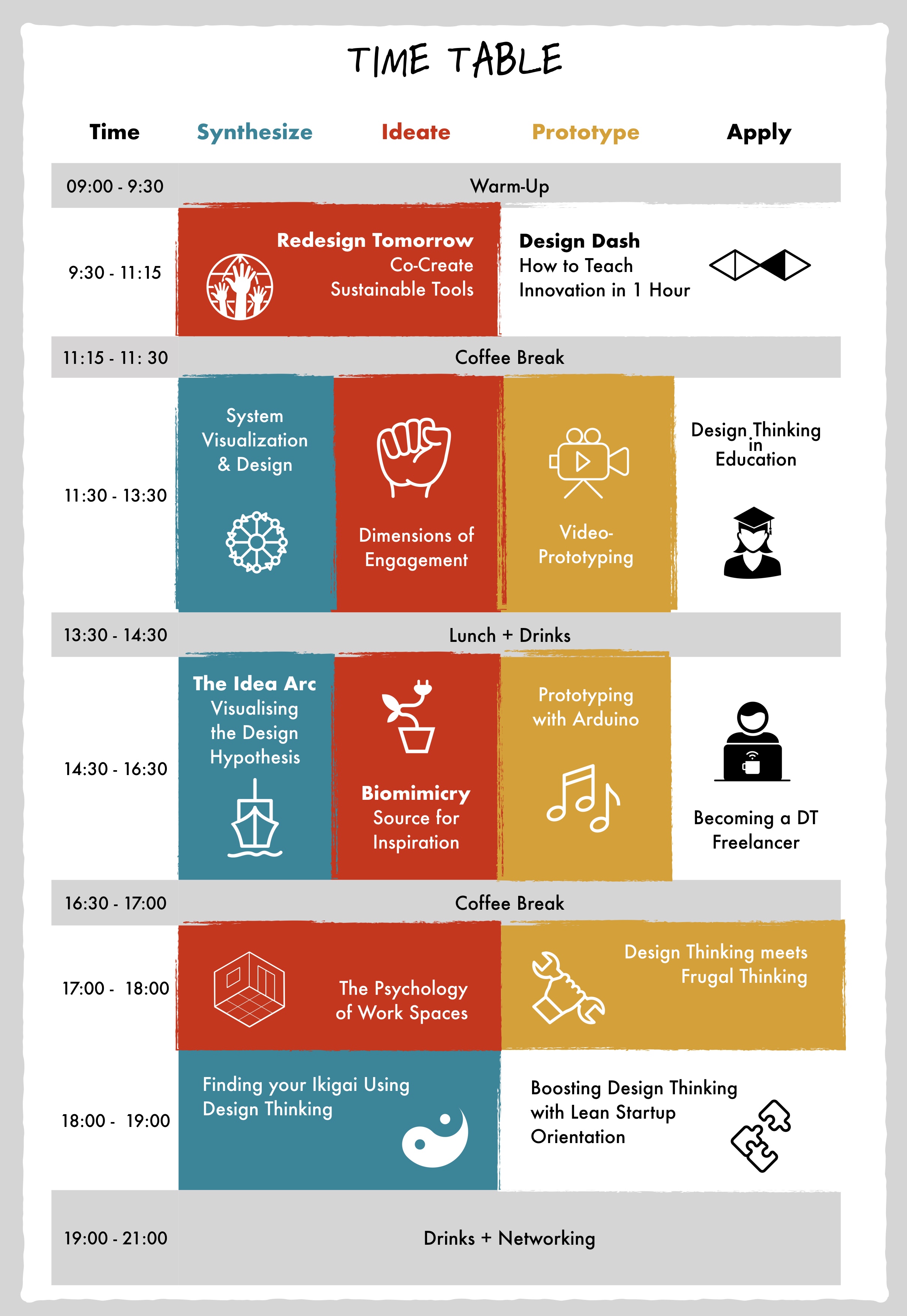 ** This time table might be subject to change **


Course description


Observation and Synthesis Track
System Visualisation and Design (11.30am - 1.30pm): Challenges often depend on a large number of different influences, which can make them very complex and difficult to grasp. Teams then tend to have trouble deciding how to start prototyping and structure content in the phase of synthesis. In order to establish a common ground and handle the complexity of your challenge, you learn to understand how to visualise your data in form of a system structure. In this workshop, we will train and deepen your skills and understanding of visualisation as a tool to bridge the gap between observations and prototyping.
The Idea Arc - Visualising the Design Hypothesis (2.30pm - 4:30pm): This workshop will deal with the importance of taking a deep and creative breath at the end of the Ideation phase. You will learn to craft testable Design Hypothesis, in order to improve the quality of your prototypes and overall design thinking process. We will work with the The Idea Arc canvas, a new design thinking management tool for bridging the gap between Ideation and Prototyping.
Finding your Ikigai Using Design Thinking (6pm - 7pm): Design Thinking is not only a great tool to solve business challenges. It is also great to find answers to your personal questions. In this session, you will learn how to use Design Thinking as a tool to find happiness and fulfilment in your life. Ikigai is a piece of traditional Japanese culture guiding you to a purposeful life. Any way, you will certainly also be able to link it back to business, as happy employees are better employees, too.


Ideation Track
Redesign Tomorrow - Co-create Sustainable Tools (9.30 - 11.15am): Design Thinking focusses on the needs of a current user. But what about the future? Who cares about mega trends, sustainability or the environment? In the workshop "Redesign Tomorrow" we will identify those voids in the status quo of Design Thinking, share our experiences and find solutions how to develop the methods one step further, focussing on the future and a longterm impact. Furthermore we will introduce you to the taskforce "Redesign Tomorrow" which was established as part of the D.Collective.
Dimensions of Engagement - Understanding Radical Innovation (11.30am - 1.30pm): Design has the power to radically change peoples' life. But how do you know if your product or service ideas will be able to have such an impact in future, too? In this workshop, you learn to recognise the difference between mere cosmetic changes and fundamental designs that touch the core of the product. You will try out designing an object on different dimensions yourself and discover how to leverage the new awareness in your daily work.
Biomimicry - Source of Inspiration (2.30pm - 4.30pm): Biomimicry is the approach to seek inspiration in nature by taking its creations as an example. With this approach, humans have already been able to tackle a wide range of different problems and invent new products, materials and buildings. In this workshop, you learn how to use the technique to spark ideas in the ideation phase of your Design Thinking projects.
How Space Influences Work (5.00pm - 6.00pm): As humans are physical beings, they are majorly affected by their physical surroundings. However, when businesses try to implement cultural change and increase creativity and collaboration amongst employees, this aspect tends to be underestimated. In this talk, you will get a better idea of how the design of work spaces can influence people using the space. You will also learn which factors you need to consider if you want to create a space, in which innovative ideas can grow.


Prototyping Track
Video Prototyping (11:30am - 1:30pm): Ideas are particularly easy to understand when told in the form of a story. Video prototyping makes it possible to communicate your story effectively and make the core features of your idea comprehensible for different stakeholders. What is more, videos are a great tool for prototyping services. You will lean how to use simple tools to create exciting video prototypes in only short amount of time. Also, we will discuss adequate use cases for video prototypes and what you need to look out for when creating one.
Prototyping with Arduino (2.30pm - 4:30pm): If you want to reach the next level in prototype, Arduino is the right tool. It allows you to build functioning, low-level technical prototypes. In this workshop, you learn the basics of Arduino and will be able to create your own little prototype. Afterwards, you will have all the necessary basics to start diving deeper into the technology on your own.
Design Thinking Meets Frugal Thinking (5.00pm - 6.00pm): Frugal Thinking is the idea to achieve progress and innovation in your business with little resources. The larger a company gets, the more it seems prone to loose its sense for Frugal Thinking. In this talk, we will discuss how Design Thinking can serve as a bridge between common practices and Frugal Thinking and steer business towards a more sustainable and effective innovation culture.


Applying Design Thinking
Design Dash - How to Teach Innovation in One Hour (9.30am -11.15am): Are you tired of teaching the wallet exercise? Introducing Design Thinking methods and the underlying mindset in less than a day is really difficult and for a long time there was no real alternative: Created by D-School Advanced Track manager Molly Wilson, the Design Dash offers you a new tool to introduce Design Thinking to beginners in an hour. This workshop is great for everyone who would like to get a short introduction into Design Thinking or is looking for a new, quick tool to teach Design Thinking to others.
Design Thinking in Education (11.30am - 1.30pm): Design Thinking is a great tool for learning as it actively involes teams and incorporates different modes of perception. After a sharing session of experiences in this field, we will co-create a prototype for a sustainable Design Thinking learning journey for students. The workshop is experimental and the outcome is not pre-defined.
Becoming a Freelancer (2.30pm - 4.30pm): Have you ever thought of becoming a Design Thinking Coach or Consultant? In this workshop you will learn which steps are necessary and how you can gain a foothold as a Design Thinking Freelancer.
Boosting Design Thinking with Lean Startup Orientation (6.00pm - 7.00pm): Lean Startup is an approach to work agile and innovatively in small teams. This is why it can also leverage the potential of teams in larger companies. In this workshop, you will learn how to boost Design Thinking with methods such as Hypothesis-driven Experimentation, Minimum Viable Product (MVP) prototyping, Fast Iteration and Validated Learning using customer data - based on the principle: build, measure, learn!

We're proud to be partnering with the HPI School of Design Thinking, D.Collective and our awesome caterer à la maison to make this event happen.