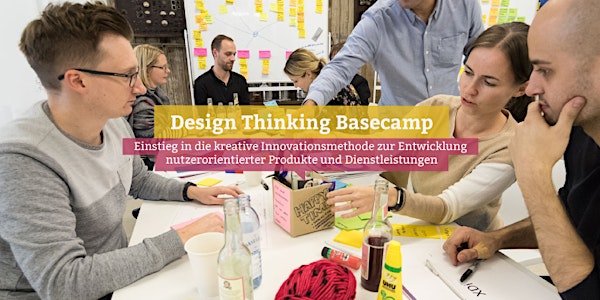 Design Thinking Basecamp
In diesem Workshop erhalten Sie ein grundlegendes Verständnis über Methoden und Prozesse des Design Thinking.
Refund Policy
Contact the organizer to request a refund.
About this event
Was Sie erwartet
Design Thinking ist ein strukturierter kunden- und nutzerorientierter Innovationsansatz, geprägt durch eine Vielzahl an Design-Methoden. In diesem Seminar durchlaufen Sie die verschiedenen iterativen Phasen des Designprozesses und wenden die neu gelernten Methoden direkt "hands-on" und strukturiert an. Gemeinsam erproben Sie, sich empathisch in die Nutzerperspektive hineinzudenken, um noch nicht erfüllte Bedürfnisse zu erkennen. Auf Basis dieser Erkenntnisse und gemeinsam formulierter "Wie können wir"-Fragen erarbeiten Sie mithilfe diverser Kreativitätstechniken innovative Lösungsmöglichkeiten und gleichen Sie im Anschluss mit technischen Umsetzungmöglichkeiten und wirtschaftlichen Anforderungen ab. Das Seminar endet mit dem Prototyping der Lösungsansätze und einem Ausblick auf deren Validierung und Implementierung im unternehmerischen Kontext.
Im Seminar setzen Sie sich in kreativer und vertrauensvoller Atmosphäre in kleinen Teams interaktiv mit dem Design Thinking Prozess auseinander. Neben den Inputs und praktischen Übungen bleibt genug Raum für Fragen und den gemeinsamen Austausch, wie Design Thinking in Ihrem Arbeitsalltag integriert werden kann.
Was Sie lernen werden
Dieses Design Thinking-Seminar bietet einen Einstieg in Prozess und Methoden des Design Thinking. Zum Ende des 2-tägigen Seminars haben Sie ein holistisches Verständnis zu Einordnung, Struktur, Mindset und Werkzeugen der Innovationsmethode. Sie sehen die verschiedenen Anwendungsmöglichkeiten von Design Thinking und haben ein praktisches Wissen über Methoden des Design Research, der Ideenfindung, Ideenvalidierung und des Prototyping, sowie ein theoretisches Wissen in Form von weiterführender Literatur und Best Practices erworben. Dieser Deep-Dive befähigt Sie erste Komponenten der Innovationsmethode in Ihren Arbeitsalltag, den Arbeitsalltag ihres Teams oder Ihres Unternehmens zu integrieren und Ihre persönliche Lernreise ausgehend von diesem Seminar fortzusetzen.
Wer teilnehmen sollte
Unser Design Thinking-Seminar ist für alle Berufsgruppen offen: Gesucht sind Menschen die neugierig auf die Welt des Design Thinking sind und Interesse an einem anderen Umgang mit beruflichen Herausforderungen haben. Menschen, die Mitarbeiter anders führen wollen und die der Wunsch nach einer besseren Zusammenarbeit, nach Perspektivenwechsel und die Suche nach Weiterentwicklung und Innovation treibt. Der Design Thinking-Workshop ist auch sinnvoll als gruppenbildende Maßnahme, um generell agiles Denken und Arbeiten zu entwicklen und voranzubringen.