Dieses Event ist beendet.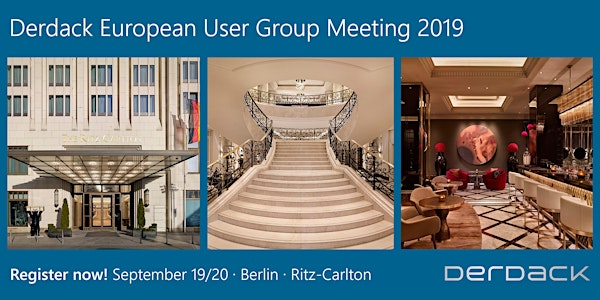 Derdack European User Group Meeting 2019
Zeit und Ort
Veranstaltungsort
Hotel Ritz-Carlton Potsdamer Platz 3 10785 Berlin Germany
Karte und Wegbeschreibung
Beschreibung
DEUG 2019 - Exclusive annual Derdack European User Group Meeting
Main Conference
WHEN: September 20, 10 AM - 5 PM
WHERE: Hotel Ritz-Carlton, Berlin
Networking-Event
WHEN: September 19, 7 PM - 10 PM
WHERE:
Fragrances Bar/Ritz-Carlton



Tickets/Registration
The tickets are free of charge. This exclusive event has a limited number of attendees/tickets – first come, first served. You can register by filling in the following questionnaire.



Main Topics

Multitenancy unleashed
The hidden features of Enterprise Alert and how to get more out of your setup
Customer Stories and Use Cases presented by 2 of our awesome customers
SIGNL4 walkthrough
SIGNL4 in conjunction with Enterprise Alert
For further please details see our agenda.
If you want to use our room discount at Ritz-Carlton, please use this reservation link.
We are looking forward to seeing you in Berlin! Contact our event team in case of any questions or requests.