Location
Göttin der Weisheit
Lenaustraße 5
12047 Berlin
Germany
Comedy and Mental Health!
About this event
Depression or anxiety, which is funnier? Well, we'll know the answer at this interactive game show.
Comedians will form two teams, Team Anxiety & Team Depression, to battle each other with their mental health material. Each comedian in the winning team will win 10€!
You, the audience, decide the winning team. What? That's so cool!
Oh, wait. You the audience, also get the chance to win €5! Really? Yaas!
This event is part of Berlin Mental Health Festival.
Where & When?
Friday 10th June.
Doors open at 8.30pm
Showtime 9.00pm
📍 Göttin der Weisheit: Lenaustraße 5, 12047 Neukölln
Tickets:
2€ entrance + donation based
Corona rules?
Currently, all Covid restrictions have been lifted in Berlin, masks are optional, please wear them if you wish, that is your business.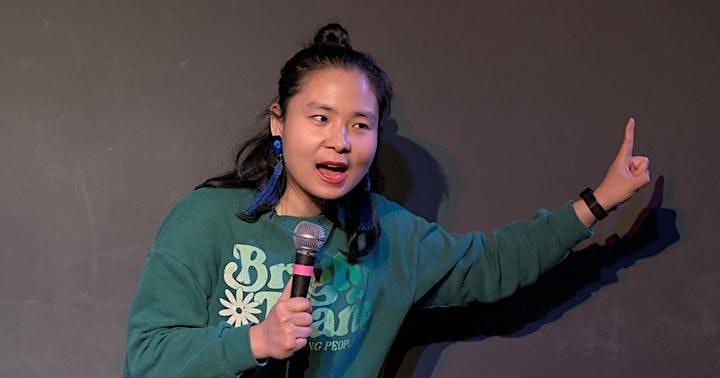 Captain Depression - Moni Zhang (Founder & Producer @ Berlin Mental Health Festival)
Originally From Wuhan, a cold, desolate place that became way too famous in 2020. A regular in The Berlin Comedy Scene and The Winner of Berlin NewStand Up Award, 2019.
Moni doesn't hold back with her material. She approaches sensitive subjects like race, sex, and farting with the finesse of a bulldozer. Her wit, set up and unique delivery makes her act fun to watch, while her vulnerability makes her the bravest person you'll meet.
Besides comedy, Moni dedicates herself to promoting awareness for mental health. She founded the Berlin Mental Health Festival, an art festival for mental health. She also produces the weekly "It's Mental! Podcast", where she has in depth conversations with creatives about their mental health journey.
Currently, Moni is touring around Europe with her solo show "Child from Wuhan", an autobiographical one-woman show about trauma, love, and diarrhea. Check more out at www.monizhang.com.
FB & INS: @moni.zhang.comedy
Captain Anxiety - Mihai Tartara
Mihai Tartara it's a stand-up comedian and a bad software developer originally from a small city in Romania, whose name is very similar to "Chernobyl" and it also has a nuclear plant. He has started stand-up in the dark side of Europe (Denmark) but now resides in Berlin where he can be seen performing almost every night as well as running showcases and his open mic "Naked Dirty Minds"
Mihai's comedy is autobiographical and brutally honest, he doesn't hold back when it comes to expressing his emotions and opinions, and his style is a contrasting mix of abstract thinking and sexual imagery with a strong emphasis on storytelling.
His anxiety stems exclusively from irrational thoughts with the fear of death being a constant thread in his everyday life.