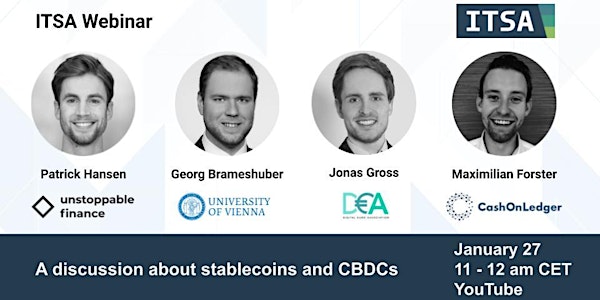 DeFi 2.0 - A discussion about stablecoins and CBDCs
Veranstaltungsort
Online-Event
A discussion about stablecoins and CBDCs
Zu diesem Event
A stablecoin can be defined as a cryptocurrency that aims to maintain a stable value relative to a specified asset, or a pool or basket of assets. This feature makes stablecoins an ideal safe haven because, unlike cryptocurrencies like Bitcoin that can fluctuate dramatically in price, an individual using stablecoins sees little to no risk of financial losses.
With the rise of Tether, stablecoins have become an integral part of the token universe. Since then, Tether has faced incredible scrutiny and has become the subject of several investigations. The regulatory uncertainty keeps growing and U.S officials contemplate launching a formal review to determine whether stablecoins like Tether and USDC are contributing to financial instability since stablecoins are currently settling trillions of dollars in transactions every year.
Nonetheless, it is evident that we need a form of tokenized money that is stored on distributed ledgers, which is why the demand for stablecoins has risen over time. This demand has led to a variety of decentralized stablecoins like DAI, MIM and UST, which all follow different concepts. While USDT and USDC still offer the deepest liquidity and easiest usability, decentralized stablecoins have seen a tremendous adoption in the DeFi space over the past year and are starting to catch up with their centralized counterparts.
During the webinar we want to highlight the differences between various types of stablecoins, talk about possible alternatives like CBDCs and discuss how regulation is likely to affect them.
Some of the questions to kick off the conversation:
Will stablecoin issuers need a banking license?
What role will Central Bank Digital Currencies (CBDCs) play?
Will decentralized stablecoins ever be regulated?
Is Tether an imminent threat?
You will receive the link to the live stream via email 20 minutes before the event. The event will be streamed on Youtube. We look forward to seeing you there!
Panelists
Jonas Gross (Digital Euro Association)
Patrick Hansen (Unstoppable Finance)
Georg Brameshuber (University of Vienna)
Maximilian Forster (Cash on Ledger)
Moderator: Christian Viehof, International Token Standardization Association
Location and Date
Location: Online. Details for the live broadcast will be sent to you on the day of the event (no prior software installation required)
Date: Monday, January 27, 2022
Time: 11h00–12h00 (CET)
Language: English
Agenda
11:00 - Welcome and introductory words (Christian Viehof, International Token Standardization Association)
11:05 - Introduction of the speakers
11:10 - Start of the panel discussion
12:00 - End of online panel
Tickets and registration
Required via Eventbrite; you will receive the URL for the online panel in advance.
Contact
International Token Standardization Association
E-Mail: team@itsa.global
Phone: +49 151 52580120
Web: my.itsa.global
About ITSA
ITSA e.V. is a non-profit organization headquartered in Berlin primarily focusing on the standardization of tokens and crypto assets. In addition to the development of unique identifiers, an international classification framework and a token data register (Tokenbase), the center offers a platform for the exchange of knowledge and thought for decision-makers and startups as well as technology and industry experts. ITSA e.V. sets new research impulses for students and organizes educational round tables for executives in the field of tokenization.